31th May 2022
I have been working on vitamin D and COVID-19. Please see:
With the completion of the submission to the UK government enquiry:
I intend to spend more time on electronic work. While there are many more research articles which could be cited, the above submission is comprehensive. Anyone who reads it and at least looks closely at the research articles cited will recognise the need for everyone (except babies breast fed by vitamin D replete mothers, and those who have arguably too much UV-B skin exposure all year round) to supplement vitamin D3 to attain (in general) at least 50 ng/mL 125 nmol/L circulating 25-hydroxyvitamin D.
So there's no point in trying to write a longer article about this. It is probably too much to put in a peer-reviewed journal.
We are keen catch up with the backlog of electronic work.
We were considering modifying the Behringer TD-3 but decided against it.
The Devil Fish mods are applicable to the
RE-303
http://re-303.com
. There should be no electronic problems modifying them since the circuit board design is based directly on that of the TB-303. The 32 Bank Memory system and the Devil Fish MIDI In and MIDI In and Out systems are only applicable to machines with an original TB-303 CPU. We have not yet had an RE-303 in the workshop.
Unfortunately the aluminium cases for the RE-303 seem to be unsuitable for the Devil Fish mods. We plan to fabricate our own cases, from ABS sheet. but this is a project for the future, once we are up to speed working on TT-303s.
When doing the Devil Fish mods for the two MIDI enabled machines mentioned above: the TT-303 V1 and the RE-303 with its Sonic Potions CPU replacement we will include a microcontroller to receive a MIDI In control change to drive the Filter frequency. The default controller will be Mod Wheel. It may be difficult to provide controls to alter this. Can anyone imagine a situation in which they really need the Filter frequency control to be on some other controller number?
5 February 2020:
A customer sent us a screenshot from Behringer's Facebook
page
with a CAD-generated image (not a photo of an actual object) of a "
TD-3-DF
" which resembles a TD-3 with all the Devil Fish controls, inputs and outputs, in a brooding, dark colour scheme. Sure enough, we found this on the abovementioned page. The screenshot is
here
.
You can read our response to this posting, and the background to it, in a separate page
behringer-unauthorised/
. We updated this when Behringer went into production with the TD-3-MO. Apart from the sub-oscillator, this is a direct unauthorised copy of the Devil Fish circuitry - though I have not seen one, so they may not have included the
ECO
updates. They mis-attribute the design to "third party mods" as if these were floating around, as many instructions for modifications are. They were too dim to provide MIDI control of filter frequency.
Our dispute is with Behringer management, not those who purchase these machines.
18 December 2018: The Quicksilver 303 CPU replacement system, with MIDI In and Out, is no longer available. I will try a Sonic Potions CPU replacement system (
https://www.sonic-potions.com/re303
) which also has MIDI In and Out. This can't provide Filter Frequency control (as is done by the Devil Fish MIDI In and MIDI In and Out systems, and which the Quicksilver 303 system also provided) and there is little prospect of it doing so in the future since there are no pins available for the requisite PWM signal.
Roland's
TB-03
does not use analogue circuitry. Instead of the transistors and integrated circuits which produce voltages for audio and control, with the filter being done by transistors (operating as diodes) as the vertical segments of a ladder, with capacitors as the rungs, all the sound generation and control is done with digital calculations. This is no-doubt a good, reliable, compact and cost-effective way of producing sound, but it is not at all amenable to modifications such as the Devil Fish.
7 February 2016: I have added an ECO directory, as mentioned
above
, for technician-installable hardware changes to correct problems in Devil Fishes which we discovered after sending the machines to customers. Devil Fish owners: please take a look at this page to see which of these problems may apply to your machine.
15th September 2014: I have completed the
MIDI In and Out
system, with its Dynamic Bank and Channel Switching capabilities. See the Devil Fish MIDI In and Out Manual (the link is above) for the full documentation of these.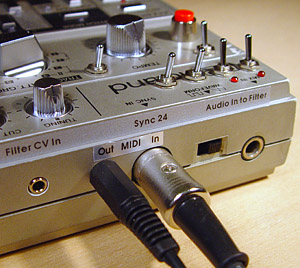 One of three modes of MIDI Out operation is automatically selected:
Int Seq mode
Note pitches result from the Internal Sequencer when it is playing a pattern, in Pattern Write, Pattern Play, Track Write or Track Play modes.
Ext CV mode
Note pitches result from measuring the voltage of an externally applied Pitch CV, plugged into the CV In socket – or, if no lead is plugged into this socket, by measuring the internally generated CV (from the TB-303's 6 bit DAC) which results from the Internal Sequencer playing notes during Pattern Write mode when it is not playing the pattern. This is when the user is entering and altering pitch, timing, Accent and Slide information.
MIDI In Follow mode
When the MIDI In system has reception of Notes and Control Changes ON (hold TAP and press and release BACK), the MIDI Out system replicates via MIDI Out Note On and Off messages the notes the MIDI In system is playing on the Devil Fish. This includes the way notes are generated with Dynamic Channel Switching.
For full functional details of these modes, please see the
MIDI Out further explanation
section of the user manual.
Here is a description of the
the 32 Bank Memory system
and how it can work with the MIDI In and Out system and two signal inputs which detect in an on/off fashion CV voltages or an audio signals.
For the TB-303 Devil Fish (with or without the MIDI In and Out system or the MIDI In system), for the TR-606 and for the TR-808,
Dynamic Bank Switching
(DBS) enables two external Audio/CV signals (or potentially four for the TR-808) to alter the currently selected memory bank, instantaneously. This is done by detecting the signal exceeds about +1.15 volts, and using this to invert one of the five address bits which select which of the 32 memory banks is currently accessible to the Internal Sequencer.
You can hear DBS in action with both the Devil Fish TB-303 and a TR-606 in Lincoln Webber's late 2015 video:
https://youtu.be/FV9g7xBsPYA
. An earlier video, mentioned below,
https://youtu.be/grjqTnyf8Ss
shows how it works with the Devil Fish.
The following description concerns memory bank switching, but the same two inputs, detector circuits and switches can also be part of
Dynamic (MIDI In) Channel Switching
, in Devil Fishes with the MIDI In and Out system.
The primary purpose of this is to enable switching between patterns, moment-by-moment, in response to manipulation of the toggle-switches and pushbutton
and
in response to external audio or CV signals. Since the Internal Sequencer reads from memory every time it plays a note, this means that notes from patterns in various memory banks can be played
in the middle of patterns
.
The manual for this is above:
#MEMDBSMAN
. The only visible parts of this are two 3.5mm sockets on the left of the machine, and two LEDs, which, when on, indicate that the detector circuit has been activated and that the address bit from the corresponding toggle-switch will be inverted before it is used to select one of the 32 memory banks.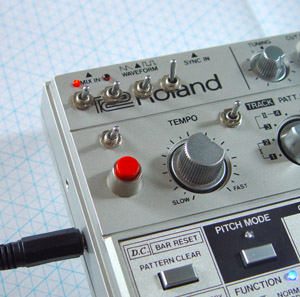 Here is a description of
Dynamic Bank Switching (DBS)
for the TB-303 Devil Fish, which involves just the switches, input sockets and LEDs - not the MIDI functions. The same capabilities will be possible for the TR-606 and in 2 and 4 channel versions for the TR-808.
The
DBS
hardware for consists of two 3.5mm audio or CV input sockets on the left of the machine. Whenever the audio or CV input signal becomes more positive than +1.15 volts (which high level audio signals will exceed in the positive part of their waveforms), the circuit turns on. The circuit remains on for about 33 milliseconds after the input signal goes below the +1.15 volt threshold. So audio signals of 30Hz and higher (and somewhat lower, depending on the waveform) will produce a continual On state as long as part of their waveform exceeds about +1.15 volts. The inputs can handle -15 to +15 volts.
When the detector circuit is On, its Red LED is On and the address bit which is generated by the associated toggle-switch is
inverted
. If the detector circuit is Off, everything is as per normal: The low and high positions of the toggle-switch produce 0 and 1 respectively for the address bit. This is one of the 5 bits which selects one of 32 (2 x 2 x 2 x 2 x 2 = 2
5
) memory banks, numbered 0 to 31. When the detector circuit (and so the LED) is On, the low and high switch positions produce 1 and 0 respectively, thereby selecting a different memory bank than when the circuit is Off.
Each of these sockets, detector circuits and LEDs is like an audio or CV controlled version of the Red pushbutton switch of the 32 Bank Memory system. That pushbutton inverts the address bit produced by toggle-switch 4. The two new inputs invert the address bit produced by toggle-switches 3 and 2.
This means audio or CV signals can switch the Internal Sequencer from playing a pattern in a particular bank of memory to playing the same pattern number in some other bank of memory whose 5 bit address differs in one bit. Since the Internal Sequencer looks into memory for each note it plays, this means that the notes it plays, with Accent and Slide, can chop and change between those from patterns in multiple banks of memory, in the middle of a pattern. The Devil Fish synthesizer and, if it is installed, the Devil Fish MIDI In and Out system and its one more slave devices, will play this set of notes.
Lincoln Webber has has posted an annotated demo of using this
Dynamic Bank Switching (DBS)
system:
In this demo he is using as inputs a CV from an LFO and the Accent CV out of the Devil Fish itself. He is not using audio signals as inputs or driving a slave device from MIDI Out. In this configuration, the Accent signal is coming from him pressing the Accent Button or from any Accents which may be programmed into the pattern.
A simple and elegant approach is to alternate between two patterns with an LFO which is running with a cycle just a little slower or faster than the pattern time itself. Lincoln is doing this with one of the signals.
Since there are two channels, there are four patterns which can be selected by the four combinations of the two input signal states. One or both input channels could be MIDI controlled by driving any MIDI synthesizer with Note On and Off events and using its audio signal, perhaps through an amplifier if its positive peaks do not already exceed about +1.15 volts. With the MIDI In and Out system, if nothing is plugged into an input socket, the output of the socket (the input to the detector circuit) can be driven by a signal derived from MIDI In: Note and/or Control Change messages received on Channel 15 or 16.
Other sources of signal to drive these inputs include: CV or audio from modular gear; talking into a microphone, the signal of which is amplified to a suitable level, and: using some audio, including from the Devil Fish or a slave instrument and delaying it. Also, using a brief audio signal into one input and a delayed version it into the other. Then a pulse of audio will take the memory system through four memory banks:
Pulse - invert A2: 000000

111111

000000000000000

11111111

00000
Delayed - invert A3:

000
000000

111111

000000000000000

11111111

00

Bank number: 0

0
0
0
00 ------ ------------ --


4
0
0
1
00 ---
---

8
0
1
0
00
---
---
12
0
1
1
00
---
-----
Address bit 4 3210
Time ------------>

The above timing chart is for all switches being down, with the pushbutton not activated. At any time these can be activated, and in the case of switches 2 and 3, this would invert the bits shown above, thereby selecting different banks.
I was prompted to devise this modification by discussions with Ricardo Velarde and Lincoln Webber. Lincoln has some other Devil Fish videos
here
.
Here is some more information about the MIDI Out functions of the
MIDI In and Out
system.
I
n MIDI In Follow mode the Accent Button and/or the Accent CV In socket adds Accent to MIDI Out notes where these are generated from MIDI In notes without Accent. This replicates the behavior of the Devil Fish synthesizer by ignoring the Accent state of the Internal Sequencer, which might be on due to the sequencer having stopped on an accented note. I have also added:

Automatic turnoff of Run/Stop drive to the TB-303 due to MIDI In Sync reception, if while this Run/Stop being on, there are no MIDI In Clock bytes for 1.5 seconds. This can be disabled.


The ability to turn on and off the reception of MIDI notes and most Control Changes, as with previous versions of the MIDI In system (but without halting the reception of MIDI In Sync), with the ability to allow the reception of Filter Frequency Control Changes at all times. This enables turning MIDI In note and Control Change reception on and off (with two differently timed combinations of pressing the Back and Tap buttons) while the Internal Sequencer is running, so alternating between external (MIDI In) and Internal Sequencer control, while patterns are playing while still allowing external control of the Filter Frequency.


Stronger drive from the Accent CV Out so it can drive the Slide In CV socket sufficiently to turn on both Slide and Gate.


Suppression of capacitive coupling in 5 conductor MIDI cables from the MIDI signal wires to the DIN Sync Run/Stop and Clock wires.


Hardware reset of the Internal Sequencer's Accent flip-flop at power on to prevent the occasional problem of notes being played with Accent on when CV and Gate inputs are used.