15th September 2014: I have completed the MIDI In and Out firmware, with its Dynamic Bank and Channel Switching capabilities. See the Devil Fish MIDI In and Out Manual (the link is above) for the full documentation of these. I have several machines here to complete which are waiting for the MIDI In and Out system.
June 2014: We have moved to Daylesford, about an hour and a half's drive north west of Melbourne:
http://en.wikipedia.org/wiki/Daylesford,_Victoria
.
We have a
new modification
for the 32 Bank Memory system
.
For the TB-303 Devil Fish (without the MIDI In and Out system - therefore with either no MIDI or with MIDI In), for the TR-606 and for the TR-808,
Dynamic Bank Switching
enables two external Audio/CV signals (or potentially four for the TR-808) to alter the currently selected memory bank, instantaneously. This is done by detecting the signal exceeds +1.1 volts, and using this to invert one of the five address bits which select which of the 32 memory banks is currently accessible to the Internal Sequencer.
The primary purpose of this is to enable switching between patterns, moment-by-moment, in response to manipulation of the toggleswitches and pushbutton
and
in response to external audio or CV signals. Since the Internal Sequencer reads from memory every time it plays a note, this means that notes from patterns in various memory banks can be played
in the middle of patterns
.
The manual for this is above:
#MEMDBSMAN
. The only visible parts of this are two 3.5mm sockets on the left of the machine, and two LEDs, which, when on, indicate that the detector circuit has been activated and that the address bit from the corresponding toggleswitch will be inverted before it is used to select one of the 32 memory banks.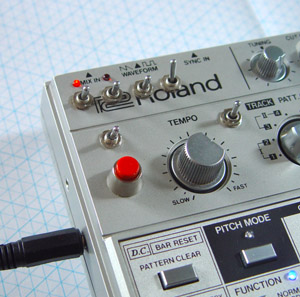 An extension of this, for the TB-303 Devil Fish only, is the final piece of the MIDI In and Out system. This is
Dynamic Bank/Channel Switching
. This involves the ability to use the to potentially inverted bits from the 32 Bank Memory system (or from two extra switches, if there is no such Memory system) within the MIDI In and Out system to dynamically switch between four adjacent MIDI In channels for Note reception.
So by manipulating the two toggleswitches, and/or by inserting signals into one or both of the Audio/CV inputs, it is possible to make the Devil Fish switch between, for instance, MIDI In channels 1, 2, 3 and 4. If these are driven by an external sequencer to have four different, patterns, then the Devil Fish will switch between the notes of these patterns in a manner similar to how its Internal Sequencer would switch between the notes of patterns in multiple banks of memory.
Furthermore, this system enables MIDI In Notes and Control Changes on Channel 15 or 16 to drive the default contacts of the two Audio/CV input sockets. This means that if nothing is plugged into one or both sockets, the detector circuits, LEDs and address bit inversion circuits can be driven in real-time by externally applied MIDI In Note and/or Control Change messages. Alternatively, these two bits (derived from Note and Control Changes on Channel 15 or 16) can be used directly inside the firmware, without going through the Input sockets detector circuits and XOR gates which invert the bits from the switches. Instead, these bits are added to those which come from the switches.
If the 32 Bank Memory system is not installed, the same results for Dynamic MIDI In Channel Switching can be achieved with the same input, detector, LED and inversion circuits, plus two toggleswitches dedicated to this purpose.
If no additional hardware is installed (no input sockets, detector circuits, LEDs, address bit inversion circuits and toggleswitches to match) then the MIDI In and Out system, on its own, can dynamically switch MIDI In channels for Notes, as just described, in response to MIDI In Note and/or Control Change messages received in a special manner on Channel 15 or 16.
For more detailed information on this, please see the Devil Fish MIDI In and Out Manual, which is not quite finalised yet:
DF-MIDI-In-Out-Manual.pdf
.
Here is a description of
Dynamic Bank Switching (DBS)
for the TB-303 Devil Fish, which involves just the switches, input sockets and LEDs - not the MIDI functions. The same capabilities will be possible for the TR-606 and in 2 and 4 channel versions for the TR-808.
The
DBS
hardware for consists of two 3.5mm audio or CV input sockets on the left of the machine. Whenever the audio or CV input signal becomes more positive than +1.1 volts (which high level audio signals will exceed), the circuit turns on. The circuit remains on for about 33 milliseconds after the input signal goes below the +1.1 volt threshold. So audio signals of 30Hz and higher (and somewhat lower, depending on the waveform) will produce a continual On state as long as part of their waveform exceeds +1.1 volts. The inputs can handle -15 to +15 volts.
When the circuit is On, its Red LED is On and the address bit which is generated by the associated togglewitch is
inverted
. If the circuit is Off, everything is as per normal: The low and high positions of the toggleswitch produce 0 and 1 respectively for the address bit. This is one of the 5 bits which selects one of 32 (2 x 2 x 2 x 2 x 2 = 2
5
) memory banks, numbered 0 to 31. When the detector circuit (and so the LED) is On, the low and high switch positions produce 1 and 0 respectively, thereby selecting a different memory bank than when the circuit is Off.
Each of these sockets, detector circuits and LEDs is like an audio or CV controlled version of the Red pushbutton switch of the 32 Bank Memory system. That pushbutton inverts the address bit produced by toggleswitch 4. The two new inputs invert the address bit produced by toggleswitches 3 and 2.
This means audio or CV signals can switch the Internal Sequencer from playing a pattern in a particular bank of memory to playing the same pattern number in some other bank of memory whose 5 bit address differs in one bit. Since the Internal Sequencer looks into memory for each note it plays, this means that the notes it plays, with Accent and Slide, can chop and change between those from patterns in multiple banks of memory, in the middle of a pattern. The Devil Fish synthesizer and, if it is installed, the Devil Fish MIDI In and Out system and its one more slave devices, will play this set of notes.
At present (2014-09-12) only Lincoln Webber's Devil Fish and one other machine has this mod. His machine also has a development version of the MIDI In and Out system which does not yet do the MIDI functions required for Dynamic Bank/
Channel
Switching. He has posted an annotated demo of using this
Dynamic Bank Switching (DBS)
system:
In this demo he is using as inputs a CV from an LFO and the Accent CV out of the Devil Fish itself. He is not using audio signals as inputs or driving a slave device from MIDI Out. In this configuration, the Accent signal is coming from him pressing the Accent Button or from any Accents which may be programmed into the pattern.
A simple and elegant approach is to alternate between two patterns with an LFO which is running with a cycle just a little slower or faster than the pattern time itself. Lincoln is doing this with one of the signals.
Since there are two channels, there are four patterns which can be selected by the four combinations of the two input signal states. One or both input channels could be MIDI controlled by driving any MIDI synthesizer with Note On and Off events and using its audio signal, perhaps through an amplifier if its positive peaks do not already exceed +1.15 volts. Other sources of input signal include: CV or audio from modular gear; talking into a microphone, the signal of which is amplified to a suitable level, and: using some audio, including from the Devil Fish or a slave instrument and delaying it. Also, using a brief audio signal into one input and a delayed version it into the other. Then a pulse of audio will take the memory system through four memory banks:
Pulse - invert A2: 000000

111111

000000000000000

11111111

00000
Delayed - invert A3:

000
000000

111111

000000000000000

11111111

00

Bank number: 0

0
0
0
00 ------ ------------ --


4
0
0
1
00 ---
---

8
0
1
0
00
---
---
12
0
1
1
00
---
-----
Address bit 4 3210
Time ------------>

The above timing chart is for all switches being down, with the pushbutton not activated. At any time these can be activated, and in the case of switches 2 and 3, this would invert the bits shown above, thereby selecting different banks.
I was prompted to devise this modification by discussions with Ricardo Velarde and Lincoln Webber. Lincoln has some other Devil Fish videos
here
.
Here is some more information about the MIDI Out functions of the
MIDI In and Out
system.
I
n MIDI In Follow mode the Accent Button and/or the Accent CV In socket adds Accent to MIDI Out notes where these are generated from MIDI In notes without Accent. This replicates the behavior of the Devil Fish synthesizer by ignoring the Accent state of the Internal Sequencer, which might be on due to the sequencer having stopped on an accented note. I have also added:

Automatic turnoff of Run/Stop drive to the TB-303 due to MIDI In Sync reception, if while this Run/Stop being on, there are no MIDI In Clock bytes for 1.5 seconds. This can be disabled.


The ability to turn on and off the reception of MIDI notes and most Control Changes, as with previous versions of the MIDI In system (but without halting the reception of MIDI In Sync), with the ability to allow the reception of Filter Frequency Control Changes at all times. This enables turning MIDI In note and Control Change reception on and off (with two timed combinations of pressing the Back and Tap buttons) while the Internal Sequencer is running, so alternating between external (MIDI In) and Internal Sequencer control, while patterns are playing while still allowing external control of the Filter Frequency.


Stronger drive from the Accent CV Out so it can drive the Slide In CV socket sufficiently to turn on both Slide and Gate.


Suppression of capacitive coupling in 5 conductor MIDI cables from the MIDI signal wires to the DIN Sync Run/Stop and Clock wires.


Hardware reset of the Internal Sequencer's Accent flip-flop at power on to prevent the occasional problem of notes being played with Accent on when CV and Gate inputs are used.

The
TT-303/
page has information on the Cyclone Analogic TT-303 Bass Bot .