to the Show and Tell page, including pages concerning corsetry and the Melbourne Sun Beachgirl Quest from the 1950s.
Some years ago, my friend Ceri Hann gave me a beautifully made tool. He was helping me with
Devil Fish
work, which involved, in part, replacing LEDs in the front panels of TB-303s. The original supports for the LEDs didn't suit the somewhat narrower LEDs we were using. We tried various approaches and Ceri came up with the best one: cutting short lengths of the white plastic tubes of certain kinds of "cotton bud" (AKA, in the USA "Q-Tip") and using one of these for each lead of the LED.
Ceri made a jig to make this cutting faster and more accurate. The length needs to be accurate within about +/- 0.2mm.
Then he found this excellent tool, which we used from then on. Tina and I still use it, for this same purpose.
It is made of steel and aluminium casting, with the unusual technique of casting the steel into the aluminium.
I put some photos of it on the
Devil Fish LEDs
page, and asked for information. Sue - who makes and collects handbags and other items using
thousands
of beads made from cut plastic tube - responded, with photos of 1960s documents, so we can now trace the origin and purpose of this beautiful tool. To accomodate this new material, I made this show-and-tell page.
The tool seems to be labelled "QSC Model A2", but it could be "OSC Model A2". It may be possible to use it as a "dowel cutter", to cut short lengths of round wood if large quantities were required.
It would also be handy for cutting spaghetti insulation, heat-shrink tubing or Q-Tips or similar tubing to make spacers.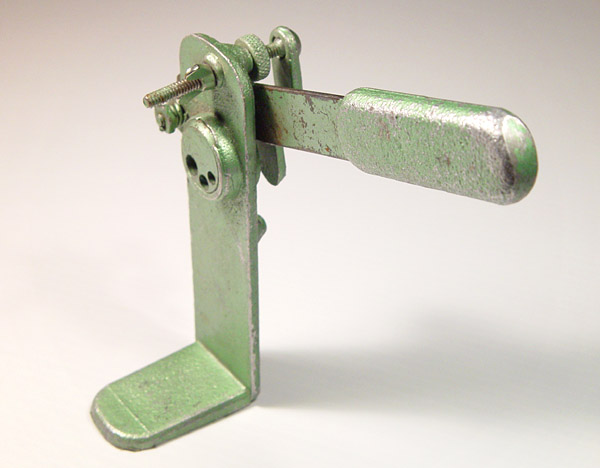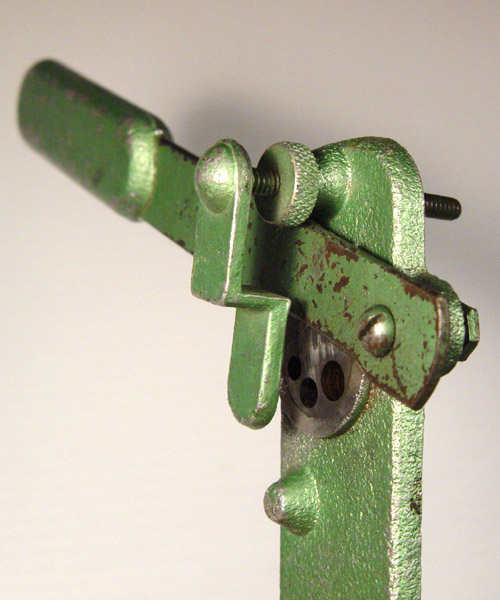 The handle is aluminium cast over the steel cutter. The steel cutter is 3/4" x 3/64". So I figure it was designed and made in Australia, rather than Japan which I guess would have been working with metric.
Here are the advertisements and catalogue pages Sue sent me: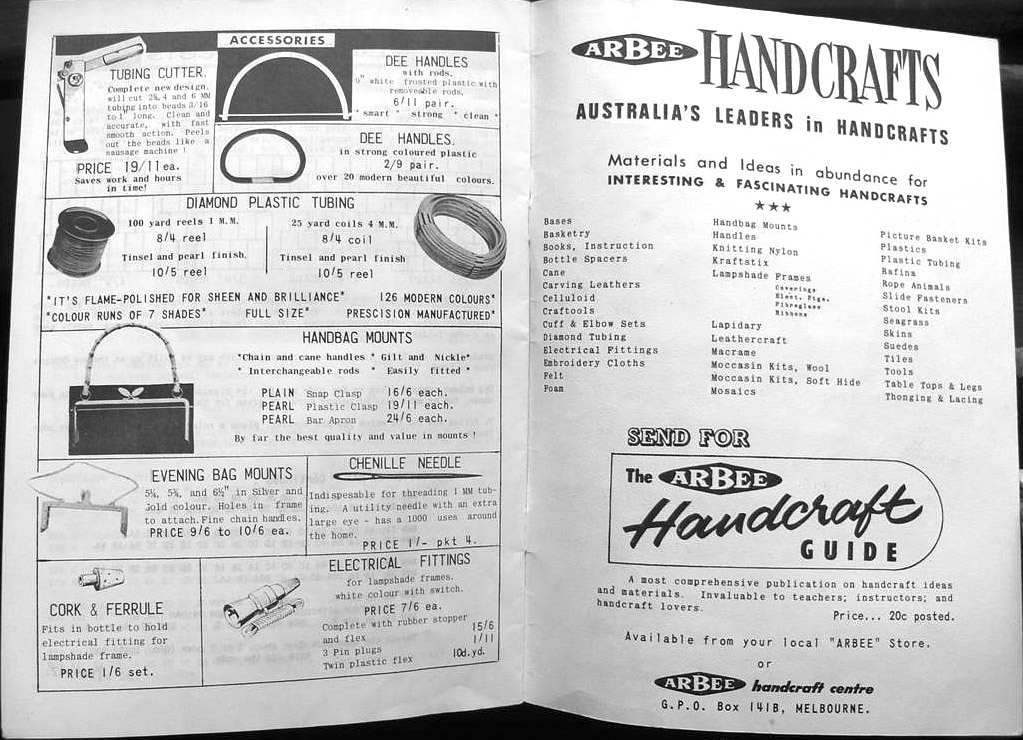 Arbee are still in business, with the same logo:
http://www.arbee.com.au/579/History/
This must have been from 1965 or earlier. Decimal currency was introduced into Australia on the 14th of February 1966. (I still recall the sing-song tune with which this date was drilled into our heads via numerous TV and radio adverts!) But note the the decimal price on the right page - 20 cents for the posted catalogue.
My guess is that the catalogue's internal pages were designed in 1965 or earlier, but that the catalogue with its outer cover, of which the right page is the inside of, was designed in 1966 or later. Note also the lack of postcode in the address. According to
http://en.wikipedia.org/wiki/Postcodes_in_Australia
postcodes were introduced in 1967.
So I think this clearly dates the cutter ad to the mid-1960s.
This page lists not just the tubing cutter:
TUBING CUTTER. Complete new design. Will cut 2 3/4, 4 and 6 MM tubing into beads 3/16 to 1" long. Clean and accurate, with fast smooth action. Peels out the beads like a sausage machine!

Price 19/11 ea. Saves work and hours in time.

The price is 19 shillings and 11 pence. This would translate into $1.99.
The plastic tubing for making beads is advertised:
DIAMOND PLASTIC TUBING.
100 yard reels 1 MM. 8/4 reel. (8 shillings and 4 pence.)
Tinsel and pearl finish 10/5 reel.

25 yard colis 4 MM 8/4 coil.
Tinsel and pearl finish 10/5 reel. (A typo . . .)

IT'S FLAME POLISHED FOR SHEEN AND BRILLIANCE
126 MODERN COLOURS
COLOUR RUNS OF 7 SHADES
FULL SIZE
PRECISION MANUFACTURED
On the same page are various handbag handles and "handbag mounts" - so making handbags with the beads cut from this tubing was clearly in vogue.
I guess the plastic tubing came from Japan, or perhaps Hong Kong. Its metric dimensions make me think of Japan. I am not sure whether Hong Kong manufacturer would have used metric dimensions.
On 2010-11-28, Google finds nothing for the phrase
Diamond Plastic Tubing
. I guess "Diamond" was a tradename.
"Flame polished" is intriguing. The tubing would have been extruded, perhaps of polyethylene or perhaps PVC. I guess there was a reduced range of plastics available then compared to what we have now. For instance PET, as used for plastic drink bottles either did not exist, or was not in widespread production. To make the surface smooth and shiny, they must have passed the tube through a flame which partially melted the surface.
Google turns up thousands of pages for "flame polished" but I couldn't easily find any pages which are relevant to this kind of home-made plastic bead.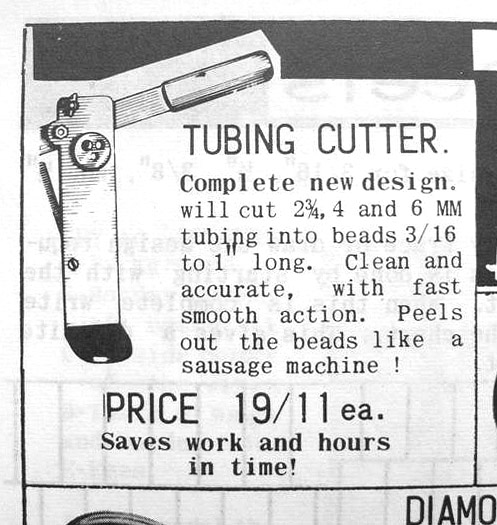 A closeup of the illustration shows some detail differences from the cutter we have here. The three holes are arranged differently.
There is some kind of device lower down which does not exist on our cutter.
The adjustment screw for setting the length is in a different position.
So perhaps this Arbee model was a copy of the one we have here, or vice-versa. Perhaps there were various cutter designs with similar principles or perhaps what we have here is a later model.
Ahh - see the next photo, also from Sue. The cutter we have here matches the illustration exactly: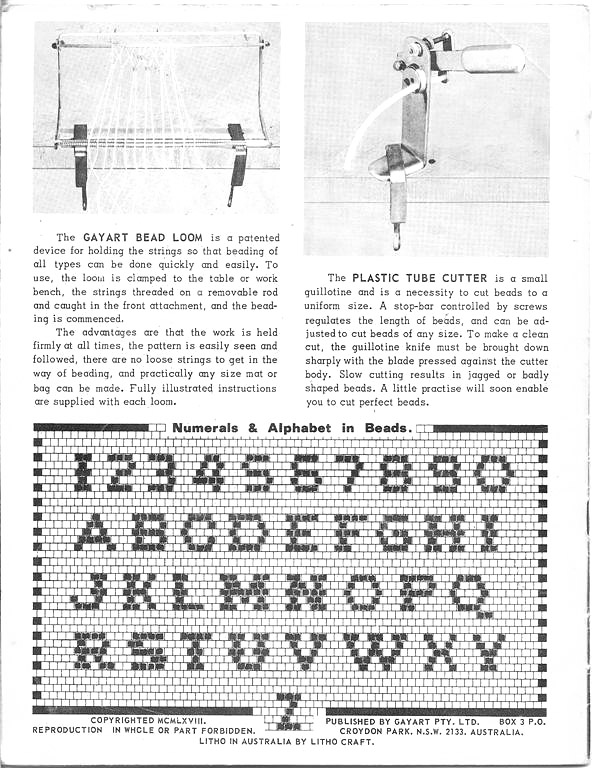 The text is:
The plastic tube cutter is a small guillotine and is a necessity to cut beads to a uniform size. A stop-bar controlled by screws regulates the length of the beads, and can be adjusted to cut beads of any size. To make a clean cut, the guillotine knive must be brought down sharply with the blade pressed against the cutter body. Slow cutting results in jagged or badly shaped beads. A little practise will soon enable you to cut perfect beads.

This is from 1968. So perhaps the cutter we have here was inspired by the Arbee cutter. This page also has a photo of the Gayart Bead Loom. In 2010-11-28, Google finds nothing for this, but click the link
Gayart Bead Loom
to see if you have better luck.
Google finds a few pages concerning "
Gayart Pty. Ltd.
"
Here are some more photos of our cutter.
The steel cutter is inset into the handle casting. The steel adjustment screw is inset into the casting of the limit stop. The three holes are in presumably hard steel, which is inset in the casting of the body.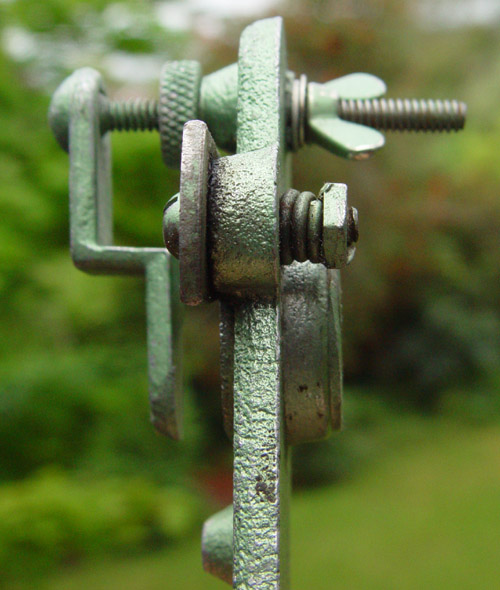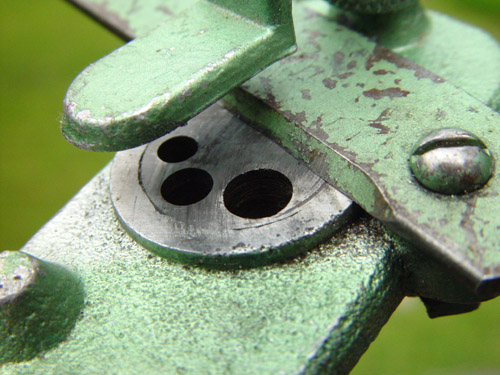 Sue sent me a photo of some of the marvellous handbags and other items she makes and collects.
She now has one of these QSC cutters.
She doesn't sell her work, but if you want to discuss these things further with her, please email me at rw@firstpr.com.au and I will forward your message to her.
Better still, contribute to
http://reclaimingthecrafts.blogspot.com.au
.