Green Ant Productions - Trance Techno Dance Parties
The Green Ant crew make music, sell it on CDs and run techno parties in, or usually around, Melbourne.


Here are some photos I took at their 13 March 1998 dance party at Nyora.


For pictures of real green ants, in far northern Queensland, see here: ../show-and-tell/green-ants/

The parties are well organised, with the best DJ's - often with one or two each flown in from Europe. The lighting is good, St Johns Ambulance and other support people are in attendance. Sometimes there is a separate "chill-out" area. The sound systems at the two Green Ant parties I have attended have been excellent. I have had a lot of fun!

- Robin Whittle 20 May 1998

Some links
---
Photographs during the night, and the morning after at the Friday 13 March 1998 party at Nyora.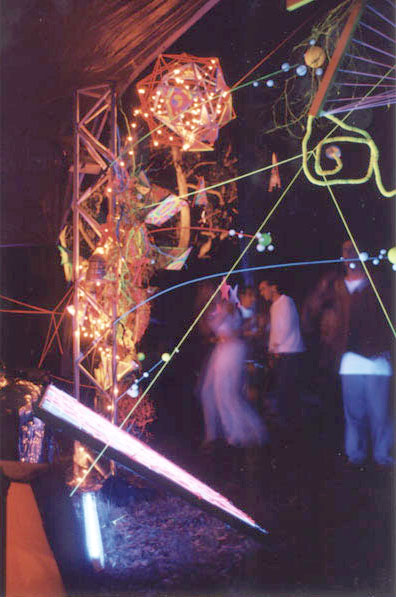 These fluorescent sculptures were made by a Japanese chap - and were by far the most wonderful sculptures and decorations I have seen at a dance party - or anywhere else for that matter. The photo above was a 1 second exposure, with 400 ASA Fuji print film. The lens was around F5.6 if I remember.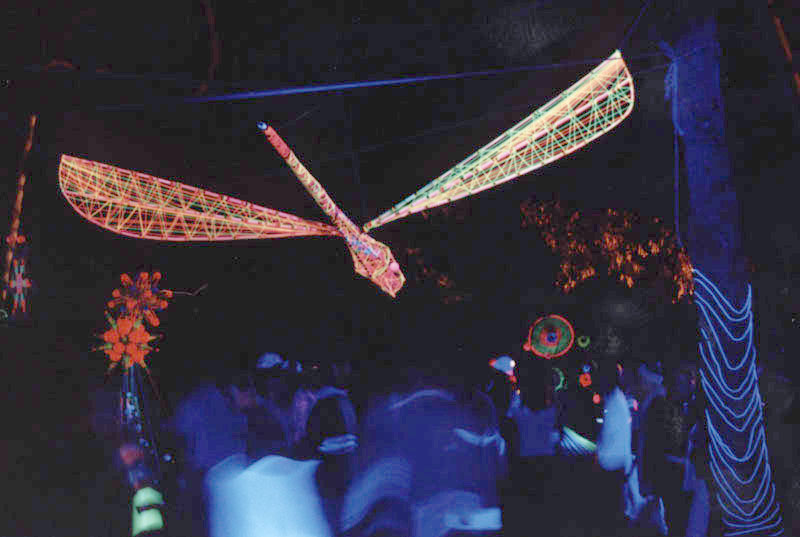 This 3 metre wingspan dragonfly was truly extraordinary. It was created by Melbourne artist Steven Glass. Some of his paintings can be viewed at http://www.infinityonline.com.au/members/acid/StevenGlass.htm which is part of the Art Gallery of the VicRaves site mentioned above. There's another photo of the dragonfly's face, in daylight, below.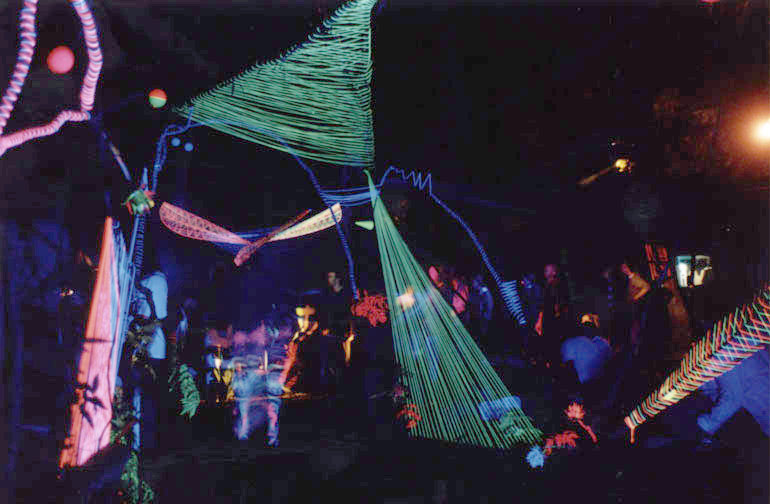 This was looking from within one of the special fluorescent precincts at the edge of the dance area.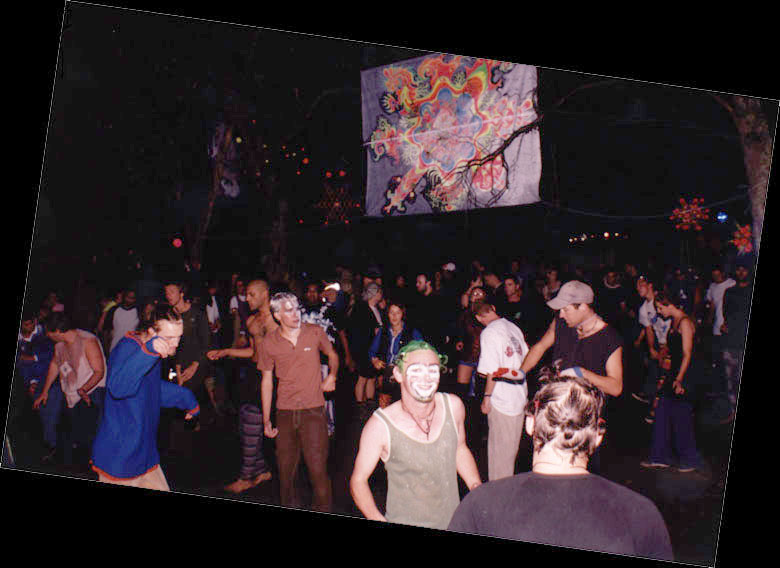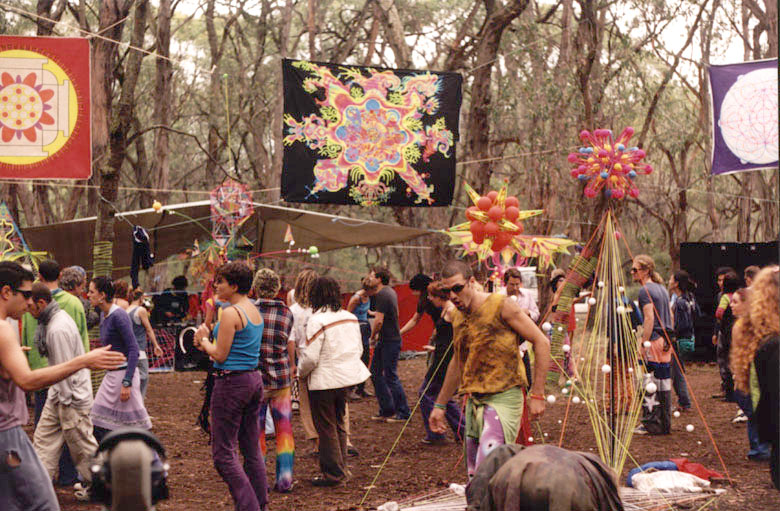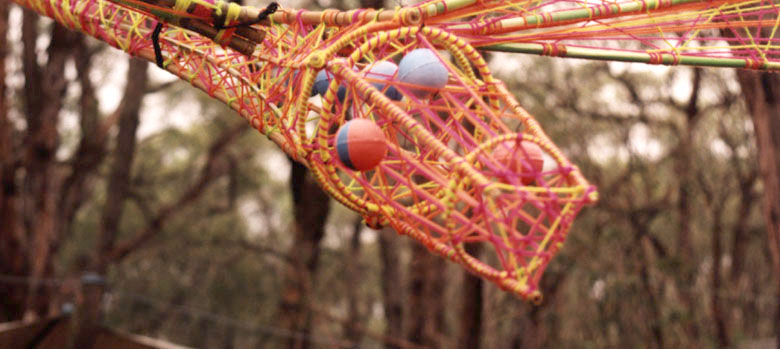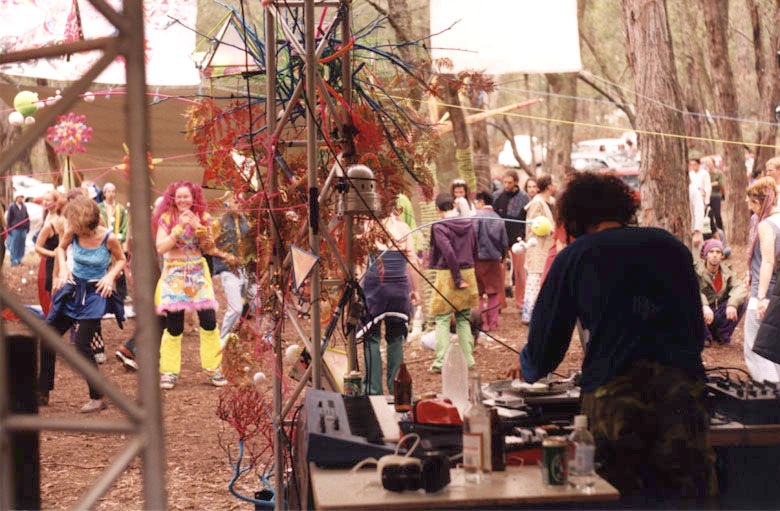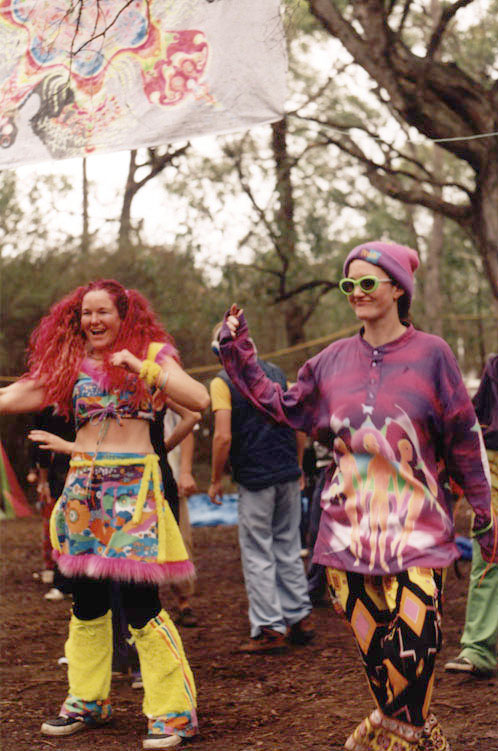 Indiana and Kath!
Back to the main page of this First Principles site.
Update history:
1999 January 15: Link to Slinky page. Corrected the curves on all the photos - they were all way too dark. Changed background to darker green.