Adriana Hardy
Paintings and drawings by Adriana, at ages 4 to 9.

All images copyright Adriana Hardy 1994-2002.

Back to the gallery.
Back to the main First Principles page.

This page works roughly backwards in time. Be sure to click the images at the start to see to the more recent additions.



Click the heart to see
some of Adriana's
drawings from
November 2000.


A drawing from April 2001.
Click to see a larger version.




Painting by splashing, and by
rolling paint-covered marbles
around! February 2001
Click to see how this was done.



January 2002:
Click the bunny or
the fairy to see the
whole picture.
or here to see it at 990 pixels wide.



April 2002:
A work in progress . . .
Click to see a bigger version.



. . . more progress, with "blow-
pens" which come with a felt-
tip pen to alter the colour of
the blown ink.

Adriana did this and a few others, including the spirally one below, at my place. I scanned some of them in states of partial completion, and we had some fun with Photoshop effects on the images, and on expanded small parts of her the images.





More fun!

After the session at my place, she painted this one for me at home - using plastic gloves with paint on the fingers . . .

"I went crazy, and then my hand went numb - that's how I got all the effects. Then I took the gloves off and did finger printing. Then I got my thinnest brush and mixed the colours and flicked the paint."

(I am taking dictation in a phone conversation here a week after she painted it . . . I asked her whether she used her left or right hand, because she had told me she painted this with her left hand instead of her right so it would be more messy.)

"Actually, I flicked it with my left hand, using three fingers, my thumb, my pointer finger and - you'll be quite surprised - my pinky. This might sound weird, but I tried to draw a bunch of flowers - but I mucked up the picture."

"I had gloves on so I wouldn't get my hands dirty, but when I mucked up I thought of doing this picture for you."

I asked her about painting with her left hand. "Actually it was quite hard, but the good thing about it is that I mucked up a lot."

I encourage her to have fun and not fuss over what other people might like or expect, but she does like to do things for people. I think Adriana has a great eye for graphic images and design. She has a great joy in creation and giving her work to others. She asked if many people wrote about this site - and there have been a handful over the years. If you want to write to her, then please write to me and I will forward it to her or write to her parent's address.

I asked her if she had ever heard of a painter called Jackson Pollock, but she said she doesn't know any other painters. We have been to exhibitions by Emily Kngwrreye, Ivor Cantrill (I have two marvelous drawings of his) and more recently Kim Westcott - but we don't talk much about art in general or other artists. After this conversation, I told her a little about Jackson Pollock and Blue Poles and how he poured paint and broken glass on his huge canvas, really working on it, and how some people think it is just a mess, but others (me included) find it a thrilling painting.

She asked me whether she could make some more paintings for me - and what to use. She suggested using her feet, knees and hands and doing cartwheels outside! I suggested someone would need to hose her down before she could go back in the house and she said she would do it herself. I said her knees didn't sound like such a good idea. I asked her if she could make a painting just with her fingers? She replied she would use her feet and hands . . . Then I asked her if she would make a painting using only her nose. She declined this suggestion, and also ruled out using her ear or any other part of her face . . . Then she said she would make a painting for me with:

"Fingers, feet, a scrubbing brush, hairspray, body glitter . . . " and various other items and substances I didn't take note of. "It will be called "Dance of the Fairies" she exclaimed.

---

From April 2002:


---


From 26 December 2000, a flower with sun and clouds in delicate colours which may not show up an an LCD screen. (The images on this page are optimised for ordinary CRT displays which have a gamma curve where half-brightness in the file means about quarter brightness on the screen.)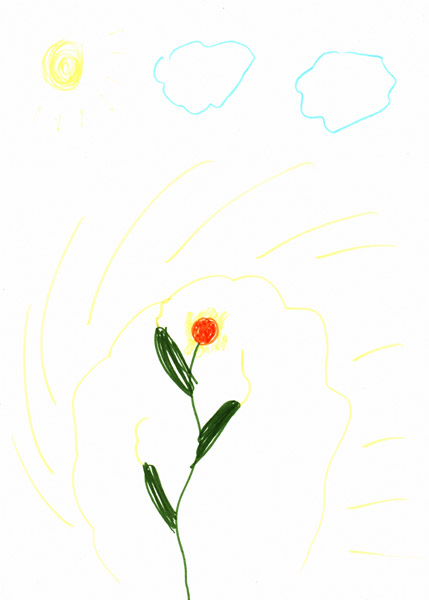 Below are paintings from Adriana when she was 4 and 5.


---
Here are some images of paintings and drawings by Melbourne based artist, Adriana Hardy - now aged five (May 1998), but aged four and a half when she did the paintings below. Click on each image to see a larger version. In mid 1997, Adriana began kindergarten - where she does most of her drawing and painting. She will be doing her honours year there in 1998 and I look forward to more exciting works. These images are some from the period June to October 1997 and represent a fraction of her output - since she brings home several pictures a week.
The pictures do not have names, or exact dates. I have recorded an interview with the artist, in which she gives insights into many of the works. In the future I hope to include transcriptions and perhaps audio samples of her commentary. The numbering and ordering of the pictures is my choice.
These images are copyright Adriana Hardy 1997. Please don't use the images on any web-site or for any purpose other than personal enjoyment. Technical details of this preliminary effort at documenting her work are at the end of this page. Feedback is welcome - to me, the curator (Robin Whittle, email: rw@firstpr.com.au) or via me to Adriana care of her parents.
Thanks to Adriana for giving me these pictures. She doesn't quite understand the Internet and the web yet - but she will soon.
- Robin Whittle 27 December 1997

P.S. 7 May 1998

Now, at the age of five, Adriana now does understand the World Wide Web. After seeing this page on a computer at a friend's place, and receiving email from a girl her age on the other side of the world, I think she has a very good idea of what is happening here. A few weeks ago, she pointed to a oval painting she had just done for Easter, which was blu-tacked to the kitchen door at her home. She said "Here! You can take this and put it on your web site."

I now have around 50 of Adriana's paintings and drawings, including those below, to put on this section of my site. I hope to finish this sometime in May or June, so please look again soon. Adriana is doing lots of paintings! Some I can scan directly, others are on A2 paper so I photograph them and scan them. Most of her painting is done at kindergarten, but she does have sessions on the kitchen table, with her older brother, with smaller sheets of paper, and with felt-tip pens and the like - often humming tunes happily to herself as she paints.

I took Adriana on a trip to the bay recently. By the time we got there, it was very windy and wet so we got to work with the paints in the back of my 1979 VW Kombi. We only had time for one painting each - for me it was the first painting I had done since 1973. They are on A4 paper, with gouache. Adriana's painting is on the left and and mine is on the right. Click each image to see bigger versions.


I mixed some white and blue, and some white and red, to make the light blue and light pink colours. I don't think she had done much conscious mixing of colours before.

The frog at the lower right of Adriana's painting has the light blue in its eyes. Adriana very carefully dabbed the red in the frogs eyes with a number of brush strokes in the still-wet paint, until she got it right. As she explained, this frog also has a belly button. Later, I considered the question of whether tadpoles developed from placentas or not and came to the conclusion that frogs probably don't have belly buttons. However my friend Damien corrected me, saying that in a painting, frogs most certainly can have belly-buttons. A few weeks ago, Adriana did a relatively formless purple paint splotch between two pieces of paper, and was adamant that it is a tree. My response was that this is what's good about painting - ordinary trees have to be green, brown or red, but in a painting they can be any colour at all!

I understand that it is best to ask a child to tell you about their painting, drawing, sculptural creation etc. - rather than asking what it is. I am fascinated by the blending of physically representative forms with abstract forms in Adriana's paintings. There is a lot of exploration and fun in all this. For instance, as she was finishing her painting, she told me with a laugh that the highest of the three green blobs in the right lower centre of the painting (the one with the accidental dot of gold on its lower right) was "a floating green face with dark glasses!". Her final addition to the painting was what she called the "gold and red rain".

I had fun doing my painting! I like to set processes in motion and see how it all turns out. The orange blob on the lower point of the second-from-right gold thingie is an accidental blob which Adriana somehow did with one of her brushes.


To the First Principles Gallery
.
To the First Principles main page.
---

.

.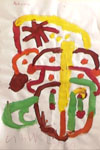 Detail:

---

Detail:

.

.

---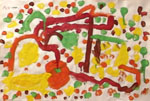 .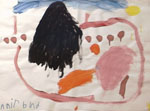 .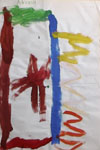 ---
---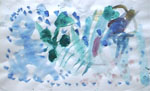 .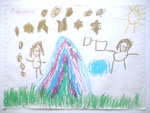 .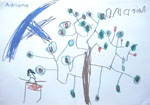 ---
Technical notes
The paintings and drawings
Most of these images are from large paintings, on coarse "newsprint" paper measuring 756 x 510 mm. This is unbleached, economy paper and will turn yellow if exposed to excessive light. Some of the pictures are on thicker, higher quality black paper. The paint is some kind of opaque water-colour. Those pictures which differ are:


adr014. 484 x 240 mm. This is on stiff black paper and was originally a painting of a special large pair of sunglasses - with mustache and an unidentified attachment. Whilst discussing the work, Adriana decided that it really needed to be cut out. I did most of the scissor work - under her direction - and she did some of the easier parts.
adr015. 354 x 215 mm. Water-colour on white paper - actually the rear of a delivery docket for The Age newspapers to a city newsagency.
adr016. 380 x 280 mm. Crayon (gold, yellow, blues, pink and green) on 15 inch computer paper.
adr018. 507 x 323 mm. Felt-tip pen on high-quality, smooth paper.
How I created the images
I used an NTSC Sony 8mm video camera and a remarkably cost-effective "Snappy" video frame-grabber, which interfaces to a bi-directional parallel port. Lighting was indirect sunshine. While a digital still camera - or scanning colour negatives or their prints - would produce a marginally sharper image, the real problem is achieving even illumination so that the folds in the paper are not so evident. All the larger paintings had been folded so they could be taken home.

More work do do!

---
Update history
2002 April 15: Added lots of new things and notes from a phone conversation.
2002 January 23: Added picture of the fairies, rabbit and giant toadstool.
2000 December 20: New directory of drawings added.
1998 May 7: P.S. added, with links to two more paintings.
1997 December 27: Page created.
To the First Principles Gallery
.
To the First Principles main page.