Little Blimps
Human powered and one/two person blimps.
Robin Whittle rw@firstpr.com.au 30 August 2002 (Minor updates 2008-01-14)

Back to the main First Principles site, for the world's longest Sliiiiiinky and other show-and-tell items.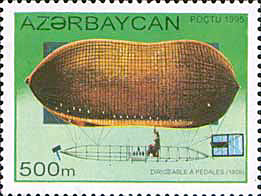 ---

This page has:

Links to sites regarding small (one or two person) lighter than air craft - typically blimps.
Some ideas of mine, which I discuss on the Little Blimps mailing list.
Search engine bait: pedal powered airship, pedal powered blimp, lighter than air craft, LTA, helium, mylar, carbon fibre, carbon fiber, human powered aircraft, human powered vehicle.



---
Links
Please let me know new links to add, and any broken ones. Old references may be findable at the Internet archive: www.archive.org .

White Dwarf - the world's best known pedal powered blimp. Unfortunately, the White Dwarf is no longer flying, due to the envelope rupturing during a pressure test in late 2007. home.teleport.com/~reedg/whitedwarf.html Some photos from October 2006 are here: rides.webshots.com/photo/2053470180044753829sNkxXS - these were discussed in the Little Blimps mailing list message here: lists.topica.com/lists/LBlimps/read/message.html?mid=1720615983
lists.topica.com/lists/LBlimps

Discussion of small blimps.

John Ninomiya's cluster ballooning site www.clusterballoon.org . Tie yourself to enough large helium balloons and . . . . . This fab site has lots of pictures and a history of this form of flight, which goes back to 1937, and is perhaps best known because of the flight by Larry Walters of California, in 1982, to 16,000 feet in the maiden voyage of his lawn chair, with 40 balloons.
Pedal powered blimp for the Sydney 2000 Paralympics http://www.eng.newcastle.edu.au/community/engnews/200011/01.html 5.5 metres (18 foot) 15 metres long (49 foot) long.
A "multiple sausage" pedal powered blimp from Switzerland http://www.myairship.com/database/sblimp.html This is part of the excellent http://www.myairship.com Airship and Blimp Resources site.
http://spot.colorado.edu/~dziadeck/airship.html John Dziadecki's extensive AIRSHIP site.
The 400 cubic metre D-4 electically powered "airship" (really a blimp, since it had no internal rigid structure in the envelope as far as I know) was flown over the rainforests of Sabah, Malaysia in 1995 as part of an orang-utan research project. Dr Graham E Dorrington's page http://www.eng.qmw.ac.uk/dorrington.shtml has pictures. He is also researching a new version of D-4, with a fuel-cell power system - and lightweight fibre-enforced envelope material with low permeability to helium.

Photos of the Air division http://www.ihpva.org/Air/ of the International Human Powered Vehicle Association - but there were no lighter than air pictures when I last looked.

Text report of an 18 metre long 165 cubic metre pedal powered blimp in the UK in 1992. http://www.soton.ac.uk/~newrep/vol9/nxab003.htm , http://www.soton.ac.uk/~newrep/vol10/nxbe004.htm .
An Azerbaijani postage stamp (as at the top of this page) commemorating an American pedal powered "airship" from 1909. http://nestor.minsk.by/fsunews/azerbai/1995/az237-43.html .
A commercial Russian single-person blimp: http://www.rosaerosystems.pbo.ru/english/products/au11.html .
Robert J. Recks has a 225 page book Muscle Powered Blimps which is widely regarded as the bible in this field. It is available from the author at <r.recks (at) juno.com> (replace " (at) " with "@"). He also has a book Building small sport Blimps.

Search Google Advanced http://www.google.com/advanced_search.html for phrases such as these. :
---
My Ideas
Why?
Most forms of flight involve high minimum speeds, improbable takeoffs and problematic landings.

But lets say I want to float around the tree-tops, or cruise along a valley and maybe over a crest of hills into another, just as one does when snorkelling or on SCUBA . . . the options, considering we are not birds, include:


Hot air balloons. Big, noisy (at times) and with navigation primarily vertical - with horizontal being at the mercy of the elements chosen by the pilot.
Helium balloons, likewise, but much less opportunity for vertical navigation, except by dropping ballast or releasing gas.
Internal-combustion engine powered blimps - noisy, heavy . . .
Human and/or solar powered blimps . . . . this is my field of interest, especially for just one or two people.

Ideas
The pages below are for my ideas, as part of discussions on the Little Blimps mailing list.


robin-1 Carbon fibre keel and tilting pilot seat frame linked to tilting propeller.
electrolysis.html How much electricity, and what sized cells, would be needed to fill a one person blimp with hydrogen?

---

Copyright 2002 Robin Whittle, but if you want to use it, let me know. For the purposes of patent law, this should constitute publication.

Update History
2002 March 04 Page established with links and robin-1 directory.

2002 March 11 Minor addition to links.
2002 August 30 Added the LB list message on electrolysis.
2008-02-14 New link directly to Little Blimps Mailing List.