Little Franklin River, South Gippsland, Victoria Australia
Back to the Show and Tell page for various items of eclectic interest such as old postcards and photographs.
Back to the First Principles page for many other items of potential interest.
See here: http://members.dcsi.net.au/kimjulie/ for a rally on
27 August 2003 to save this and nearby forest from logging
- and to keep the Labor government to its promises by
making it into a reserve!

Robin Whittle 1 October 2000 rw@firstpr.com.au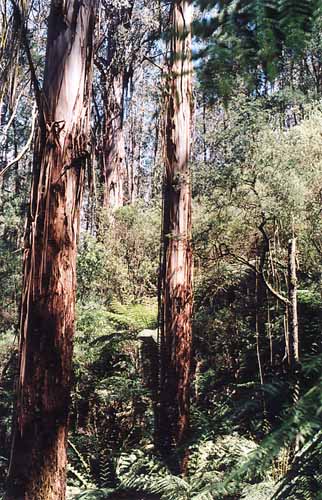 ---
I took these photos in November 1999 and March 2000. The Little Franklin River is a small, rarely visited river in the Strzelecki Ranges, about 160 km (100 miles) south-east of Melbourne. The forest includes stands of Mountain Ash (eucalyptus regnans) and temperate rainforest.
Scandalously, much of the forest in this area was sold by the now disgraced Kennet government to a US timber company. The administrative conversion of State Forest to so-called "plantation", it being vested in the Victorian Plantations Corporation, and the sale of that corporation to US timber company Hancocks has been strongly resisted by many residents of South Gippsland.
Now, with a new Labor government, there are hopes that an arrangement can be made to return the most environmentally valuable of these forests to public ownership, and to protection in the form of a nature reserve or national park. Only a small area of the Strzeleckis is assigned to national parks. Much of the rainforest in the region's many valleys has been converted to farmland, or pine plantation. Similarly, much of the mountain ash forest on the ridges has been cleared as well.
Nonetheless, enough forest remains to support a wide range of fauna, including koalas and lyre birds. These remnants are not well known, and are well worth a visit.
For information on the scandal of the state forest sell-off - and the campaign to protect and preserve key areas of the Strzelecki Ranges, see:
This campaign has almost universal support within the region, yet the sell-off and the need for protection is not well known in Melbourne or elsewhere. The economics of farming in the Strzeleckis is not spectacular. In decades past, many farmers who invested their land and money to create pine plantations (pinus radiata). Yet now, with those plantations maturing, many find it impossible to find a timber company to harvest them. While mountain ash is capable of producing excellent framing timber for housing, pine is preferred in many cases these days. Mountain ash is also suitable for furniture - a high value, relatively low-volume industry. The primary purpose of hardwood (mountain ash and bluegums) plantations, and hardwood forestry in this area is to provide high quality (that is very clean and free of knots and other blemishes) pulp for making paper such as the well known Reflex A4 photocopy/laser-printer paper. Such forestry is always conducted in a clear-felling manner on cycles too short to allow the full development of forest and the older trees many birds and marsupials require.
Meanwhile, environmentally attuned tourism is increasingly viewed as a sustainable and vital component of the local economy. The region relies on the Strzelekis for its water supply too - or rather it should. The dam for Foster is small and bordered by cow paddocks!
Here is a photo from the Space Shuttle, looking west over the Strzelekis, Westernport Bay and Port Phillip Bay. Also a map of the proposed reserve. A green pointer shows approximately where the Little Franklin River is.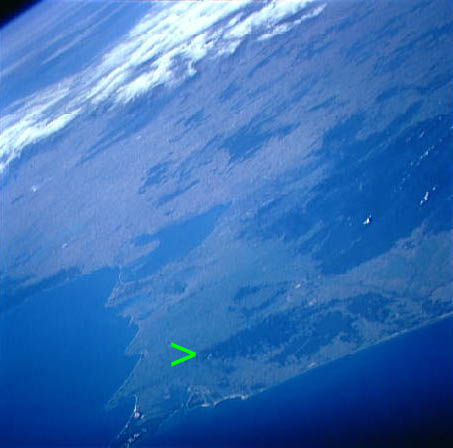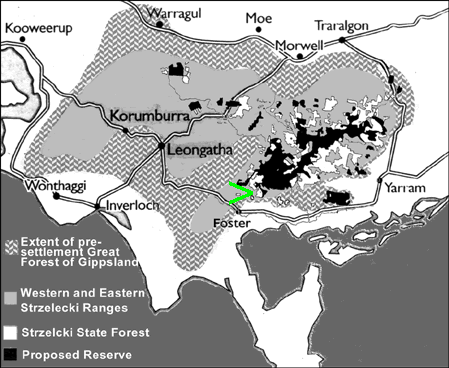 ---
To the pictures! Some of these have larger versions which you can view by clicking links. Those images have their sizes in pixels in the file name. The links are followed by the file size in k bytes.
These were all taken with 400 ASA Fuji neg. film and a mid 1960s Pentax Spotmatic.
---
Kim is standing at the base of a spectacular
mountain ash. This is in an area deemed to
be "plantation" and so the timber rights were
sold to a US timber company.

Mountain ash take hundreds of years to grow to
maturity. Regeneration only occurs in a fire which
destroys the trees, since only then are the gumnuts
able to geminate. Plantations of such trees typically
involves aerial drops of seed, followed by burning.
---
Mountain ash can take hundreds of years to grow to
maturity. Regeneration only occurs in a fire which
destroys the trees, since only then are the gumnuts
able to geminate. Plantations of such trees typically
involves aerial drops of seed, followed by burning.
---
---
---
| | |
| --- | --- |
| | Treeferns are common in rainforest and the understorey of eucalypt forests all over the east coast of Australia. The trunk is segmented and based on previous year's fronds. It is possible to cut the trunk at any point and replant the treefern. (It is not legal to take treeferns from the forest in Victoria.) The roots descend all the way down the trunk and will take to the soil even if cut off well above the treefern's original base. Some species grow marvellously tall and slender in protected locations. |
---
---
---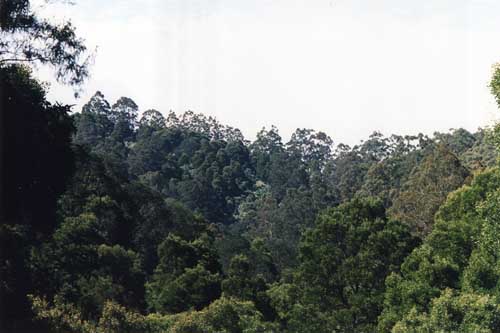 Looking north over the Little Franklin valley as we walk home. Note differing colours of eucalypts indicating different species in different areas. In the foreground are the deeper green, mottled colours of multiple species of rainforest trees.

The rainforest is more resistant to fire than the eucalypts, being denser and wetter. I understand that if both types of forest are destroyed by fire, the eucalypts will typically grow back over a wider area, but that over time the rainforest encroaches on the eucalypt forest, up to the limit of the rainforest's viability. So rainforest is typically found in the valleys and on the southern and eastern slopes.