Robin Whittle's Show-and-Tell - Easter Camp hand-drawn poster
Back to the Show and Tell page.
Back to the First Principles page for many other items of potential interest.

Robin Whittle 16 September 1999 rw@firstpr.com.au

Here is a poster I picked up at Camberwell Market, a Sunday morning flea market in the heart of Melbourne.

It is a poster announcing a "B. C. U. Easter Camp" at Berwick, with the camp mother being Deaconess Kathleen Sheppard. Berwick is now an outer south-western suburb of greater Melbourne. I think this is a splendid piece of illustration and graphic design!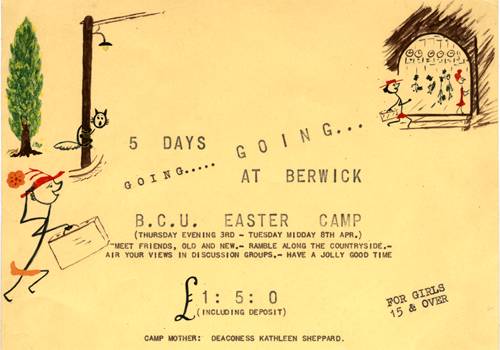 This is the top half of the poster. The picture at the top is clearly Flinders St Station, Melbourne's main station. The clocks are still there.
I guess it is from the 1950s or 1960s. Perhaps someone can narrow it down, using the "Tuesday 8 April". Decimal currency was introduced on 14 February 1966. The illustration is in paint, ink and pastels, I think. All the type is done with a typewriter – the impact can clearly be seen.
ec-girl-241x300.jpg (9k) Detail of the girl with her suitcase.

ec-tree-and-cat-215x300.jpg (9k) Detail of the cat, lamppost and tree.

ec-full-770x1080.jpg (84k) The full poster.