Robin Whittle's Show-and-Tell - Rag Doll and Cemetery Angels
Back to the Show and Tell page.
Back to the First Principles page for many other items of potential interest.

Robin Whittle 16 March 2002 rw@firstpr.com.au

---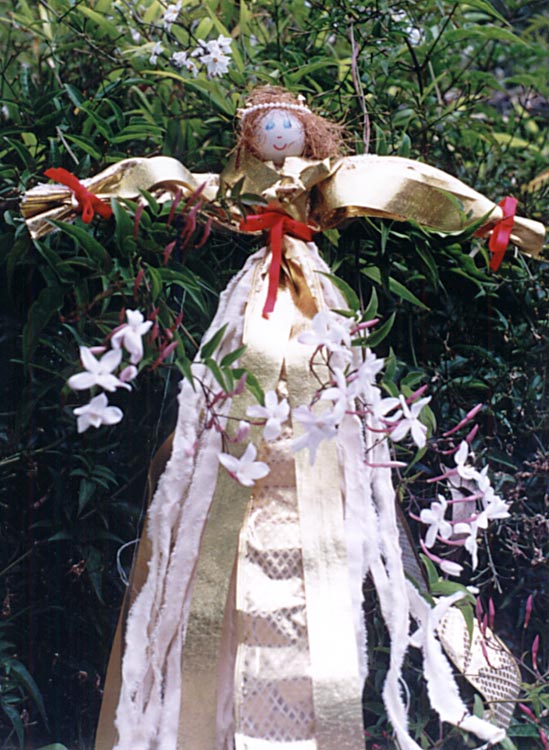 Here is a sublime rag doll angel my sister-in-law Barbara and her mother Jacqueline made for me for Christmas 2001. There she was, in a hamper of yummy provisions, in her wonderful state of fully knowing bliss. Life is full of surprises - and many of them are beautiful and impossible to anticipate.
I am not normally a fan of dolls, but I really like my Christmas Angel! I think of her as Jasmine.
---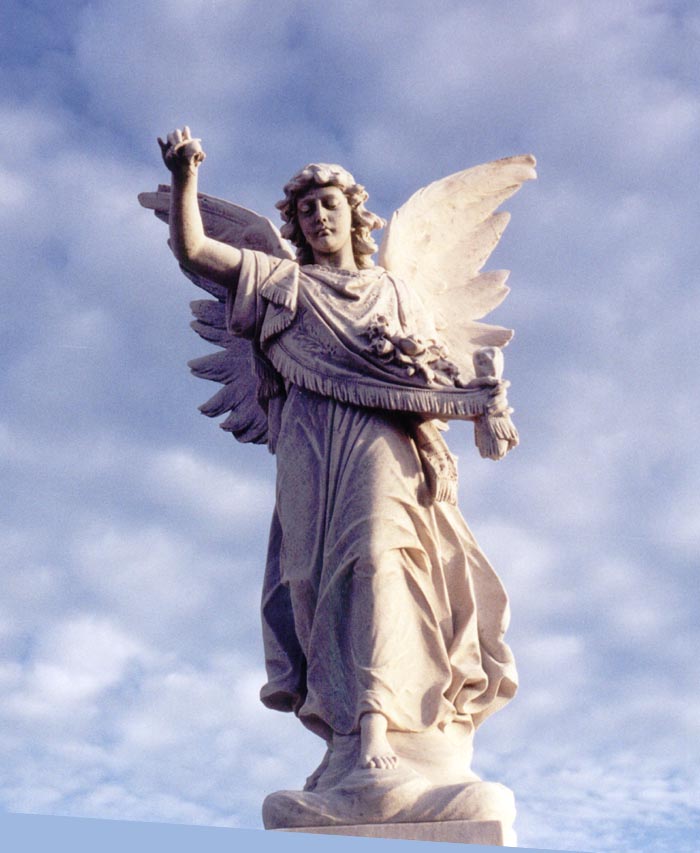 Here is an angel from Waverley Cemetery, Sydney. My friend Marcia Clemmitt took the photo and wrote:

She's wonderful, isn't she? I think what I like best about her...him?...the
inability to know is part of the point, I would think....Anyway, I think what
I like best is not only the compassion of the face but the human depth, the
realness of it. So many angels are of the too-smooth-to-be-people variety,
which is one way to look at it and has its own beauty. But this one is a
*person* that you could meet on the sidewalk outside the grocery store, but an
angel with an infinite power of compassion nevertheless. Whenever I look at
the pictures, I think, we were right to hang around that angel! (The clouds
were great that day, too.)




Waverley Cemetery is a striking, beautiful part of Sydney which seems to be not widely known beyond some Sydneysiders. Take the 378 bus from Railway Square, and alight at St. Thomas Street, Bronte. Sydway map 78.

The cemetery is on a hilly land, high above cliffs which drop to thundering waves, facing east across the Pacific Ocean. To the north is Bronte, Tamarama and then Bondi Beach. To the south, Clovelly and Coogee. A cliff-top walk between Bronte and Coogee takes in the ocean end of Waverley Cemetery.

The cemetery's website http://www.waverley.nsw.gov.au/cemetery/ says that since 1877, over 250,000 interments have taken place in 50,000 gravesites and memorials over 40 acres. The site has a large aerial photo "map" - 273 k bytes 1415 x 841 pixels: http://www.waverley.nsw.gov.au/cemetery/images/map.jpg .



---