Special techniques for KiCad

2016-05-06 (Updated 2018-06-15) Robin Whittle rw@firstpr.com.au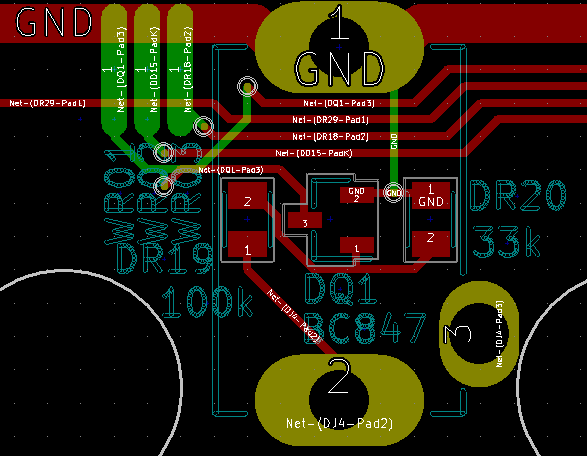 KiCad -
http://kicad-pcb.org
- is a full-featured open-source schematic and PCB design program.
I am active on the KiCad Users mailing list is
https://groups.yahoo.com/neo/groups/kicad-users/info
.
There is also a web-based KiCad Users Forum:
https://forum.kicad.info
. This has a higher volume of messages than the mailing list, but I prefer mailing lists for in-depth discussions. That said, the mailing list is falling into disuse and most of the action is in the Web forum.
(2023-09-02 mini update: I am not sure how relevant all this material is to Kicad in 2023. I haven't done any work with it since 2018. Today I updated a link to Andrew Tweddle's site, which is now
https://pcbsynergy.com
.)
Sections 01 to 08 below were originally written in May 2016 for KiCad 4.0.2. In early October 2017 I updated this page where necessary for the current version 4.0.7. (See archive.org
link
for the 2016 version of this page.)
In January 2018 I added a big new section on Design for Manufacturability. This primarily concerns the footprint library. I can't continually update every part of these pages, so please note that they were written at various times and will not be totally up-to-date with the latest KiCad developments.
I use KiCad on Windows 7 since my main PC is Windows 7 and has four 1920x1200 monitors. In principle I could run it under Linux, but at present (2017-10-09) the latest version of KiCad (4.0.7) is only available for Debian if I install the current Testing version of Debian, Buster, which would do under Virtual Box . . . and for some reason I was unable to do this.
Contents of this page:
Four other pages:
#kpv
01 - PCBVal: Adding a field to schematic components so their value on the PCB can be different from their value on the schematic
#bomw
02 - Creating a simple, ungrouped, Bill of Materials (BoM) from KiCad running under Windows 7 (with links to other pages regarding more advanced types of BoM)

#bomf
03 - Initial ideas for fancy BoMs with part numbers and stock numbers
#tfn
04 - Template Field Names in Eeschema 4.0.7

#kds
05 - Data Structures for KiCad - especially for generating BoMs
#conv
06 - Converting from old Protel files, including from Autotrax for DOS (1989)
#smtf
07 - Deciding exactly on SMT footprints using standards documents, software etc.
#links
08 - Links
Update history:
2016-04-23 - 24: Initial version: kicad-pcb-value, conversion from Protel, resources for SMT pad design decisions and a link.


2016-04-25: Added section for BOM generation under Windows and fancy (for me as a beginner) BOM techniques involving separate fields such as for the stock numbers at different suppliers.


2016-04-26: Added a section on Default Fields and more on BOMs.


2016-04-27: Added a section with a separate page on data structures for generating BOMs and the like.


2016-04-28: Minor updates and deleted the section on initial ideas on new fields.


2016-05-06: Added link to PCBSynergy program.


2017-10-08: Various changes for KiCad 4.0.7.


2018-01-02: Added the design for manufacture page and created descriptions of this and the other pages.


2018-06-15: Added note about mailing list falling into disuse. Updated section on converting from old Autotrax PCB format.

© Robin Whittle 2016-2017 – First Principles and Real World Interfaces