Maps and space photographs of Australia - and photographs and links regarding weather and climate
To my page on estimating elevation, and state government maps in Victoria, especially regarding line-of-sight 802.11 microwave propagation.

This rambling page contains some old and more recent maps, photographs from space of parts of Victoria, links to the Bureau of Meteorology, links to sites with climate information, severe weather information and photos, space photograph sites and other interesting sites regarding the geography of Australia, planets other than Earth, their moons and at least one asteroid and its moon . . .

Click on the images of the maps to see higher resolution versions.
Read below for links to the sources of the maps.

Australia in 1860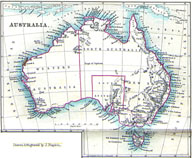 South-east Australia in 1860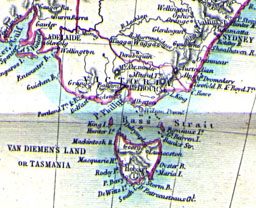 Melbourne and Geelong in 1860
Melbourne and surrounding area, ca. 1980
A green arrow points to Heidelberg Heights.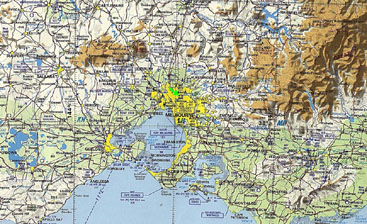 Photographs taken from the Space Shuttle
Click on the Space Kombi image to go to the section of the NASA Ames Browser for the NASA JSC's Earth Observation collection from which I got the following images.

Image looking west north-west over central Victoria - April 1993, from the orbiter Endeavor. Strange that there is little visible evidence of 3.2 million people camped around the north of Port Phillip Bay! The Ninety mile beach is to the lower right. Central Highlands - eucalypt forest - is the darker area to the right. Forest areas to the south of that are pine plantations and the remaining eucalypt and temperate rain-forest of the Strzeleki ranges. As with a lot of native forest, all is not well. See a report: http://members.dcsi.net.au/kimjulie/ on how the state government seems to be preparing to sell state forest to private owners. Also at that site is a proposal for a 30,000 hectare national park in the Strzeleckis. The proposal is gaining wide support, but the state government's response to concerns about selling off state forest, and to the park proposal, has so far been disappointing.

Between the Central Highlands and the Strzelekis is the LaTrobe Valley. This is best known for the massive deposits of brown coal, from which Victoria gains almost all of its electricity. Beyond the right of this picture is the Bass Strait oil and gas fields - off the coast from the central part of the Ninety Mile Beach. Together these make Victoria self-sufficient for electricity, oil and gas. The Bass Strait field opened in the mid-sixties. Before that gas was made by cooking black coal - mainly from New South Wales. The oil and gas is not going to last a great deal longer - but the brown coal will keep going for centuries. Some natural gas is used for power generation - because such power stations can respond to peak demand better than the huge brown-coal stations. I think this is a waste of precious gas. Better to build a cable between Tasmania and Victoria. Then we can use their hydro stations for peak load, and they won't need to build more dams to cope with drought years. Tasmania has around 600,000 people, and quite a few of them just love building dams and turning forests into paper.

There is no nuclear power in Australia - but there are several large uranium mines. There is only one nuclear reactor - a small one in Sydney for research and isotope production. The Brits conducted some above-ground atomic bomb tests in South Australia in the 1950s.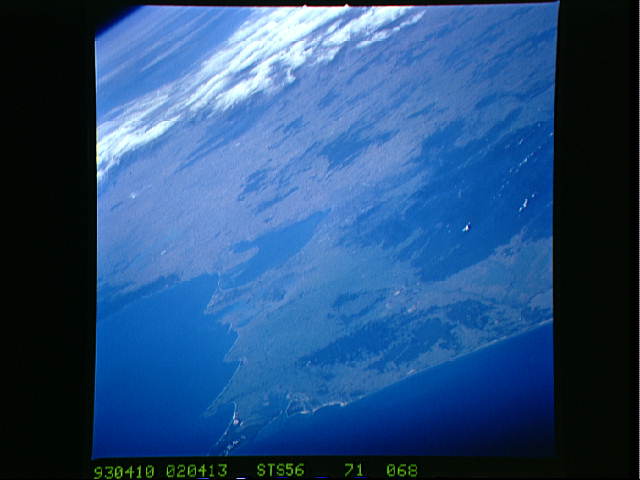 Looking north west over central Victoria with Port Phillip Bay slightly to the right of centre. Sunshine and clouds over Bass Strait - a very dangerous piece of water. There is a full-size ship - the Tasmanian Taxi - which runs between Melbourne and Davenport. It takes cars, busses, trucks etc. - has nightclubs, a swimming pool and so on - its a big ship. It often gets rough in Bass Strait, and occasionally people wind up in hospital, even on this full-size ocean-going ship. On the day this photo was taken, it looks so calm that you could water-ski to Tasmania.
Only a handful of lighthouses in Australia are still operational - ships are supposed to use satellite navigation systems instead. One of the now defunct light houses is on Cape Otway - slightly left of centre in the picture and covered in cloud. I have fond memories of spending the night with a friend at Blanket Bay, to the north-east of the forest covered Cape, in my terrestrial Space Shuttle - a 1979 VW Kombi - with no-one else for miles around. The lighthouse was about five miles away and its beams periodically swept through the night sky above us. On a previous mission, with an older craft, another friend and I took a short-cut from Apollo Bay to Blanket Bay rather than take the main track to the Cape. We never got there - the van was bogged to the axles and we walked to the lighthouse to call for a four wheel drive to fish us out.
Port Phillip Bay, with Geelong to the left, Melbourne to the right and the Mornington Peninsular in the foreground. Port Phillip Heads, AKA "The Rip" is a very dangerous piece of water. Pilots are taken out by ocean-going launches from Queenscliff at all hours of the day and night - to clamber up a ladder on the side of a ship and guide its captain and crew through the heads. The big ships generally don't come unstuck - but there are very narrow limits regarding where the water is deep enough, which rocks to avoid and so-on. Most of the drama comes from the tidal forces pushing water in and out of the bay - forming whirlpools and, I understand, some exotic and sobering boating conditions. There is a magnificent dive site a few miles inside the heads - "Popes Eye" - an artificial island built last century for a fort to assist the Victorian Navy in keeping Russians from invading. (Australia's states were separate colonies until Federation in 1901.) The rock island attracts fish and gets lots of sunshine and fresh water. I remember being accosted by a squadron of cuttle-fish there and enjoying fighting my way through the thick kelp forests.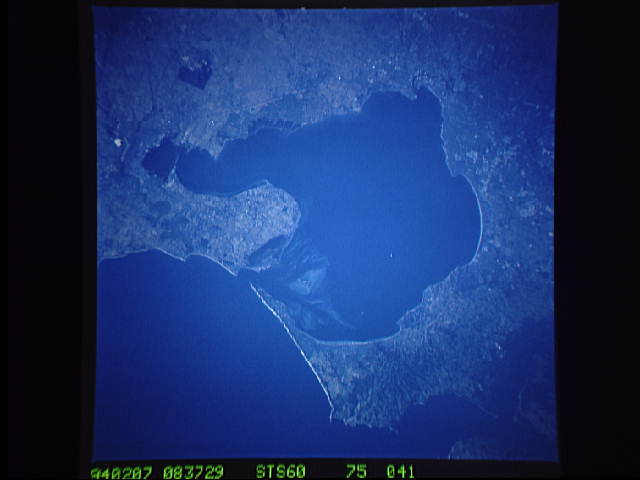 These maps are from the extensive Perry-Castañeda Library Map Collection at the University of Texas at Austin. Some of the maps there are courtesy of the CIA(God bless their generous souls!) They have a list of map-related sites which lead me to the NASA site mentioned below. In particular, the contemporary Australian maps at the University of Texas site are at: http://www.lib.utexas.edu/Libs/PCL/Map_collection/australia.html
The historical maps of Australia and the Pacific are at: http://www.lib.utexas.edu/Libs/PCL/Map_collection/historical/history_austral_pacific.html including a large 1932 map showing the path of early European explorers:http://www.lib.utexas.edu/Libs/PCL/Map_collection/historical/Australia_SE_1832.jpg .
The photographs are from Space Shuttle missions - using and extraordinary point-and-click browsing system. There are 220,973 images from the Shuttle missions 1 to 76 - they take a lot of pictures! These are available at the NASA Ames Browser for the NASA JSC's Earth Observation collectionhttp://ic-www.arc.nasa.gov/ic/projects/bayes-group/Atlas/Earth/mission-menu.html
---


You may wish to bookmark this page now . . . because, you will be tempted to follow some of the links below:
Latest satellite images and weather maps from the Bureau of Meteorology
Main page for the Bureau of Meteorology - forecasts, observations, climate information etc.
Latest visible light satellite image of Australia: http://www.bom.gov.au/weather/national/satellite/gvlatest.shtml
Latest infra-red satellite image of Australia: http://www.bom.gov.au/weather/national/satellite/gilatest.shtml
Synoptic chart: http://www.bom.gov.au/weather/national/charts/synoptic.shtml
Rainfall map: 1 week, Australia: http://www.bom.gov.au/climate/rainmaps/weeka.shtml
Rainfall map: 1 week, south-eastern Australia: http://www.bom.gov.au/climate/rainmaps/weekc.shtml
Melbourne forecast: http://www.BoM.GOV.AU/cgi-bin/wrap_fwo.pl?IDF02V.txt
---
Enthusiast sites concerning weather and climate in Australia
Australian Severe Weather http://australiasevereweather.com

Michael Thompson's Australian Weather Pages http://ozthunder.com



---
A wonderful map of Australia

Note in 2007: the following description is of an earlier version of the map to that currently available. The latest version has only a few boxes of rainfall and temperature information.

The Australian Geographic Society http://www.ausgeo.com.au/ has a big beautiful map called the Road and Reference Map for Adventurers and Dreamers. It measures 106 x 88 cm (42 x 34 inches) and includes a great deal of geographic, historical and climatic information - far more than any other map I am aware of. This map can be purchased, via credit-card, via the Web for AUD$7.95 (converted to USD$ here that's $5.80) from the Society's web-shop. To find it in the web-shop, use the search form for "Map Adventurers". You should find it here as well. Their overseas delivery arrangements seem to be rather inflexible - AUD$19 for surface mail no-matter what you order or where you live outside Australia! The shop has many other books, maps and other items of potential interest. If you really want this map, I suggest emailing them at order@ausgeo.com.au and asking about airmail of this map (catalogue number AFQ) which weighs 103 grams (including an A4 envelope) and so could not cost any more than AUD$3 to airmail to anywhere on the planet.

Here is a tiny portion of the map - on most screens this will be about 90% of real size. (Victoria is a very small part of Australia.)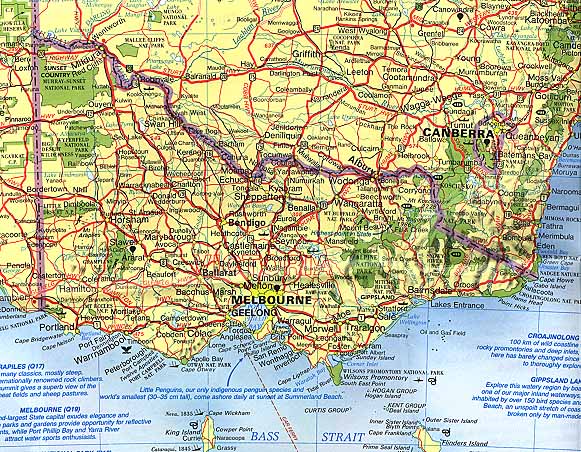 These two images are copyright Australian Geographic Society.

In addition to the extensive written information, there are fascinating charts showing monthly rainfall, and the monthly average daily maximum and minimum temperatures for 17 cities and towns. These are most instructive!




Melbourne's weather usually comes from somewhere between the south-west and the north-west. Occasionally it comes from due north. Because of the clockwise and anti-clockwise rotations of the high- and low-pressure systems that arrive from the west, we can get several days of super-hot air from central Australia (high over Adelaide), followed by a blast of icy air direct from Antarctic waters (low to south of Victoria). In summer, it gets hotter, and hotter . . . and hotter . . . . !!!! Then, if the relevant deities are smiling, we get a rip-roaring thunderstorm with a cool change behind it.

Tornadoes are very rare in Melbourne - though I did once manage to stand inside a little willy-willy for a few seconds in Bundoora. We get squall lines sometimes - a turbulent line of low cloud carrying icy, blustery, air, rain and hail that literally rolls across the bay - with calm sunny weather before and after it. In the early eighties, there was a huge dust storm as a front picked up thousands of tonnes of topsoil from the Mallee (north-western Victoria) and drove it like a bulldozer straight over where Melbourne happened to have been built. Everything went dark brown in the middle of the day and there was dust everywhere. There are some dramatic photos of this - somewhere.

From what I hear, you don't want to be in Cairns in the wet season! Melbourne's wide daily range of temperatures in summer, and especially the two to four day hot-spells we get, mean that a double-brick house (like I rent) rides out the daily temperature changes nicely - and takes several days to be seriously affected by heat-waves. Most Melbourne homes are not double brick - they are brick-veneer, which is all wrong from a thermal perspective. The outer layer of bricks is well coupled to the air outside and probably only lags by a few hours. Having a timber frame, and simply 15 mm of plaster for inside walls, the inside of the house has very little thermal inertia. However, double-brick - with 100 mm thick brick internal walls - has a massive thermal inertia.

By contrast, in Queensland and Northern NSW, it gets hot and humid and stays that way. So there's no point in having thermal inertia or insulation. Houses are traditionally set high - and some of the older timber homes don't even bother with an outer layer of weather-boards. They have simply the frame (4 x 2") and tongue and groove lining boards on the inside walls. That's what you see from the outside! The houses generally have a verandah all around - and all rooms have doors between them that open to the verandah. It would be banana's to build a house like that in Melbourne!

Sydney has more rain than Melbourne - but it buckets down, whereas it tends to spend longer drizzling in Melbourne.

Sydney is more humid than Melbourne - which makes it a favourite with cockroaches, which are very rare in Melbourne. Melbourne's water supply is only very slightly chlorinated - I can't tell that it is. The water in Sydney and Brisbane stinks of chlorine. Adelaide has to get its water from the tail end of the Murray (after it has been depleted and salinated by irrigation projects) it used to be said that it was one of the few ports where ships did not take on water.



Some demographic maps of Melbourne
Here are some interesting maps showing educational and family demographics in Melbourne. They appeared in the Herald Sun on 15 April 1998 and are no-doubt copyright Rupert Murdoch and Co. and/or the Australian Bureau of Statistics - so I dips me lid to them both!

The story, by Michelle Pountley, which accompanies these three maps is here.

Firstly, two maps showing what percentage of the workforce have either university, or trade qualifications.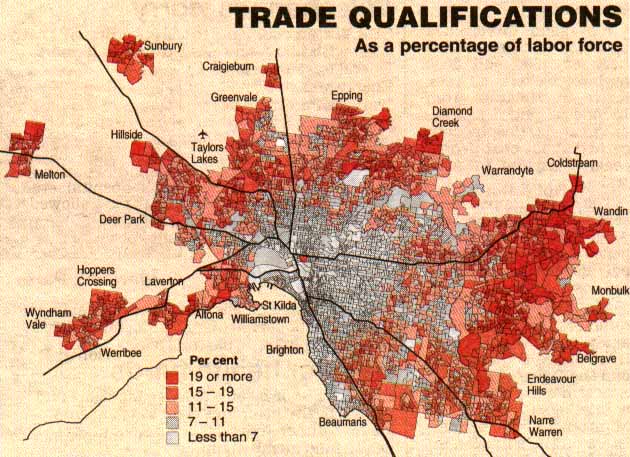 Even allowing for some artistic license in choosing how these trends are depicted, the trends are still dramatic. Like, I imagine, many other cities, Melbourne's suburbs differ significantly. There are still some suburbs that I don't know the exact location of - after living here for 36 years. There are many suburbs or groups of suburbs where I don't really know anyone.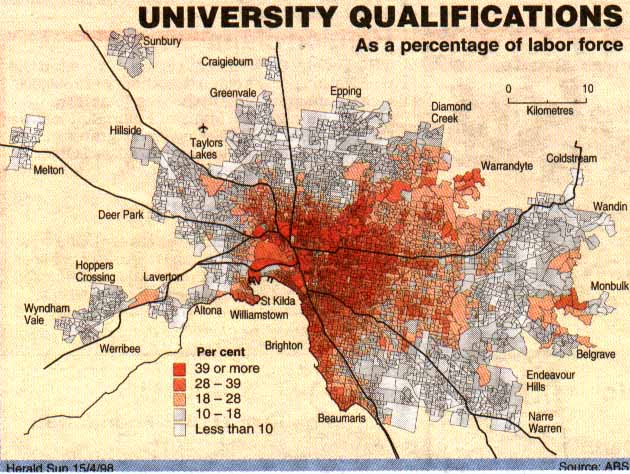 Melbourne has two daily newspapers. Previously there was the tabloid Sun in the morning, and the broadsheet Herald in the afternoon - but for the past few years they have been the one tabloid paper - theHerald Sun - with a morning and afternoon edition. The other paper isThe Age. http://www.theage.com.au/ There is also the national paper, The Australian which like theHerald Sun is a News Corp. paper. The Australian Financial Review is owned by Fairfax and Co. - who also publish The Age. The Age of late, in my opinion, has been losing some of its intellectual edge - and becoming more of a Sunday paper every day of the week. Still, it has many unique attributes - including the wonderful cartoons by Michael Leunig.

If you want to understand Australian culture - and in particular Melbourne - don't miss the work of Michael Leunig! I can't think of a more generous, perceptive person whose work - since the early 1970s - has meant so much to me and many people in Australia.

The Herald-Sun outsells The Age nearly two-to-one. I wouldn't be surprised if the demographics of these two newspapers were highly correlated with the trade / university education trends depicted in these maps.

Here is the third map from the Herald Sun / ABS:



---
More maps and synthetic images . . .
Of course, there is http://maps.google.com .

If you want see some other images, such as one taken of Australia and Antarctica by Gallileo en-route to Jupiter or if you want to beyond the Earth, then check out the vast browsable image libraries of the planets and other solar-system objects such as asteroid Ida and her moon, Dactyl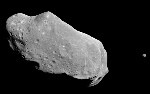 then point your browser at this fab NASA site: http://ic-www.arc.nasa.gov/ic/projects/bayes-group/Atlas/
There is also a relatively low resolution (compared to the above photos) "Earth and Moon" viewer which synthesises images of any area of the Earth - including how that area is lit at the current time. http://www.fourmilab.ch/earthview/vplanet.html
This site enables you to easily choose which city to look at.
This example, centred on Melbourne, shows seabed relief too. Tasmania was connected to the mainland around 10,000 years ago when more water was locked up at the poles in the form of ice.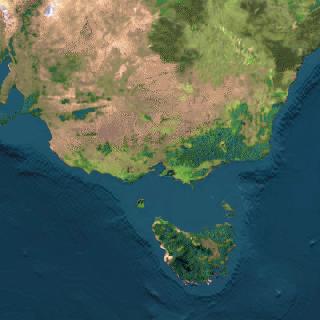 There is a big, synthetic image, "map" of the world from ESA/NASA/NOAA/USGS/CSIRO - like the above, as if it were photographed, but actually made with radar. I found it at Calvin J. Hamilton's multi-lingual guide to the Solar System (no longer there) http://www.hawastsoc.org/solar/homepage.htm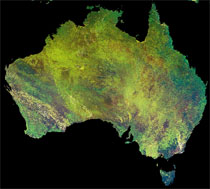 Here's the Australian section of the big colour topographic map of the Earth, from the US National Geophysical Data Center in Boulder Colarado (no longer there) :http://julius.ngdc.noaa.gov/mgg/fliers/94mgg01.html Click on it to see a bigger version.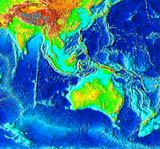 To see where the Australian continental place is believed to have fitted in with other parts of Pangea, click here to dive into the middle of a tutorial on plate-tectonics from the Hawaii Natural History Association.
In contrast to Indonesia and New Zealand, Australia is geologically a very quiet continent. There are no active volcanos on the mainland or Tasmania - but there is one on an island nearer the Antarctic: McDonald Island. I have never seen an active volcano - but I certainly intend to do so. Check at the Current Volcanic Activity site of Volcano World at the University of North Dakota to become completely distracted from Australia . . .
---

Robin Whittle rw@firstpr.com.au Page created in April 1998. Some dead links pruned in January 2007.
Return to the main page of the First Principles web site.