Robin Whittle's Show-and-Tell - Corsetry 1
Back to the Show and Tell page for various items of eclectic interest such as a 1913 colour photograph of a demure young woman and two photos of the Sun Beachgirl Quest circa 1950.

Back to the First Principles page http://www.firstpr.com.au - where you can read of many technical, consumer advocacy things, but also some non-intellectual, aesthetic delights such as my 21 metre Sliiiiiiiiiinky and some photos from a trance techno dance-party in the forest.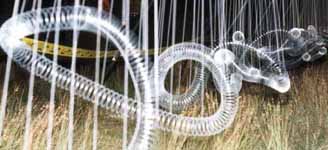 . .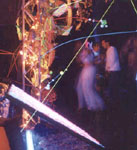 These pages are pretty much unchanged from when I made them in the late 1990s. They have long been the most popular pages of this web-site - it seems that quite a few folks out there are searching for Sabrina.
In the 1990s, many people looked back to the 1950s and early 1960s as the high-water mark of bra and corset design. In the 2010s, I think this is still the case, and most mass-market products are lacking the delicacy and/or vibrancy of the best-remembered items from those golden years. However, in the 2010s, shapewear design has flourished, as a Google image search for shapewear indicates.

Here's a memorable photographic depiction of a woman modeling a Goddess Enfold strapless bra which was available (late 1990s when I first made this page) from: www.bway.net/orchard_bras/gd.html.
I think this is the 689 style. In February 2009, this retailer's website is now http://www.orchardcorset.com and carry this style 689 here They also have a smooth version, with limited stock. Searching for the words Goddess Enfold strapless leads to a page http://www.goddessbra.com/main.asp?pid=199&rnd=3496 depicting the same bra as shown above. The photo itself is http://media.freyalingerie.co.uk/1-7-5881.gif (archived here). A smooth version is here: http://www.freshpair.com/Goddess-Smooth-Underwire-Longline-Bra-690.html (archived here), as a closeout special. It seems this style may no longer be known as "enfold". Searching for the phrase Goddess 698 seems to be a good way of finding this style at various retailers.
Robin Whittle 17 September 1999 rw@firstpr.com.au
12 June 2000: Links updated. Added Dita images and 26 images of girdles which can be purchased on the Net.
11 November 2000: More links added.
August/September 2001: more images added and broken into four pages.
May 2010: added links to dollhousebettie.com
May 2015: minor tweaks.
---
Contents
Page 1: <<< You are here.

From my collection of corsetry advertisements

Some images of the fabulous Dita von Teese wearing a corset
The Golden Age of (Australian) Corsetry by D.A. Cooke
Brassieres: An engineering Miracle, article from 1964 by Edward Nanas

Shapely and sensual girdles and the like from Lingerie Direct in the USA.

More corsets from various sites
Links to kindred sites

If you like this sort of thing, be sure to check out www.dollhousebettie.com in San Francisco.




---
1 - From my collection of corsetry advertisements
Here are some images of corsetry advertisements from various magazines, which I picked up at Camberwell Market, a Sunday morning flea market in the heart of Melbourne. The designs range from the sublime to the gawd-blimey, with no direct correlation between this and their chronology over six decades.

Click the small images of the corset ads to see larger and fuller versions. File names include the X and Y dimensions in pixels.
---
While support can be pleasant and healthy, it is not unheard of for women to exclaim "My girdle is killing me!". Since 1907 (according to the history "Golden Age of Corsetry: see below ) Berlei has been a highly regarded Australian corsetry manufacturer. This full page ad in Woman, 2 November 1942 depicts an industrial strength corsellette, with some rousing rhetoric such as: "For whether she rears a family or mans a rangefinder, a woman needs the physical support of a good foundation." and "Amongst other munitions of war, Berlei are still making foundations.". The ad is titled:

An essential aid to 'WOMAN POWER'
---
| | |
| --- | --- |
| | Due to a lapse in my filing system, I don't have the date for this ad for Berlei foundations. "A Berlei Foundation preserves, corrects and glorifies." |
---
This Warners advertisement is from the September 1955 issue of the large format, beautifully printed, US magazine Ladies Home Journal . According to the quiz previously at bway.net/orchard_bras/bra_menu.html (but not at the new site http://www.orchardcorset.com ) the "Merry Widow" term comes from a 1952 film of this name starting Lana Turner. These are nip-in-the-waist corsets which sit on the hips rather than cover them, and extend upwards to the midriff and breasts - without shoulder straps. They are typically shown in advertisements over an underskirt, but this is an artifice to focus attention on the garment. It takes a special kind of woman to get into this contrivances: a very narrow-waisted one! Regular tight-lacing can significantly reduce the waist measurements, but despite how attractive it looks (to a point) I don't think it can be regarded as healthy. There is a great resurgence in interest in corsetry, including bespoke corsets of the most elaborate designs. Women like to be held, by a man and by the clothes which they like so close to them.

Click here to read the text of this advert. Warners still make excellent intimate apparel. I have been unable to find them on the Net, but I did find some photos of their current products here .
---
There is a vast range of aesthetics in the design of feminine clothing, and a similarly expansive range of mythologies and resonances which enliven this art form.

You can read the inspirational caption here.

---
From the March 1960 issue of English magazine Woman's Journal comes perhaps the most memorable corset image I know of. Who said corsetry was a male plot to oppress women? The girdle and bra, with their cross-over panels . . . the direct, symmetrical stance of the woman, together with the clear and authoritative gaze of the Berlei corsetiere. The corsetiere's intelligent eyes and smile - and her efficient hairdo. The model's strong, full, womanly figure and her prefect, formal yet relaxed-looking hair. Her face signals inner peace and contemplation. Knowing. She has no need to smile - no need to consider what others may think. All womanly power resides with her, focused and framed by her girdle and bra.

Here is a detail and a larger version of this striking advertisement. sarong-detail-419x700.jpg (41k) sarong-1098x1587.jpg (190k).
---
Fredericks of Hollywood is a renowned and long-established purveyor of bras, girdles and the like - though not, it seems, always of the most refined sensibilities. Here is a series of four advertisements from the US magazine Movie Mirror in the early 1960s. This magazine featured advertisements from a number of other risqué retailers, but they are outflanked by Fredericks. This magazine was a gossip rag and in its rear pages jostle ads for such items as one dollar blackhead removers, breast enhancement programs, false teeth and pellet firing Luger automatics.


This is from September 1961.
---
| | | | |
| --- | --- | --- | --- |
| | | | The Fredericks advertisements from Movie Mirror issues of February 1962, February 1963 and February 1965. |
---
| | |
| --- | --- |
| | It's November 1965, and in the Australian mag Woman's Day, surf's up with this happily preposterous corset advert! Note that these two surfer girls are wearing garments which are identical (except for the fine detail of fabric and trim) to the timeless bra and corset of their more cerebral and sublime older sister over five years beforehand: the BerleiSarong line. I think the scene is Bondi Beach. |
---
This advertisement for the Simone Perele Sabrina bra appeared in the October 1986 issue of Australian Cosmopolitan.



In 2015, as far as I can tell, this beautiful design went out of production two decades or more ago. A Google image search returns many images, but the only ones of this particular bra are the images on this page.







---
| | |
| --- | --- |
| | Here are some girdles from the 1991 Fredericks of Hollywood catalogue. Two have fanny padding and one has absolutely nothing in the rear at all! |
---
| | |
| --- | --- |
| | A bright add for a seemingly transparent lace and pink satin bra from Hickory. I guess early 1950s. |
---
Contents
Page 1: <<< You are here.

From my collection of corsetry advertisements

Some images of Dita von Teese wearing a corset
The Golden Age of (Australian) Corsetry by D.A. Cooke
Brassieres: An engineering Miracle, article from 1964 by Edward Nanas

Shapely and sensual girdles and the like from Lingerie Direct in the USA.

More corsets from various sites
Links to kindred sites
---