Daylesford and Trentham food, restaurants, bookshops and more
2017-06-11 Robin Whittle rw@firstpr.com.au
Last update 2017-07-24
Here are some of the local businesses which Tina and I have had particularly good experiences with. They are in no particular order except that the first two are in Trentham, the next is further afeild in Kyneton and the rest are in Daylesford.
This is one of several pages concerning Daylesford and places nearby. The index for those pages is here:
../
.
Chaplins at the Muse, Trentham
This is a small cafe a few doors east of the IGA supermarket. We are not the only ones who describe their salad sandwiches as heavenly.
I don't recall what all is in their standard salad sandwiches, but Meredith Marinated Goat Cheese (link) is one of the ingredients. The bread is a soft, fragrant, rye bread from the Kyneton Bakehouse (link). I ask them to hold the olives and add avocado.
We can't comment on the rest of their extensive menu since we have yet to get past their salad sandwiches!
Chaplins does not seem to have a website. A page of reviews is at: www.tripadvisor.com.au
32 High St Trentham. Phone:
03 4405 4107.

Dr B's Bookstore, Trentham
This is a finely curated bookshop specialising in art, literature and contemporary fiction.
40B High St Trentham. Look for the two wombats on the roof. Phone: 0421 225 999.
https://www.facebook.com/drbsbkshp/
Squishy Minnie Bookstore, Kyneton
A bright bookstore for children and young adults, with a great range of books, not least concerning Demolition and Construction.
80 Mollison St Kyneton, on the east side, just south of High St.
https://www.squishyminnie.com.au
Tonna's Fruit and Vegetables
This is an excellent fruit and veg shop, located on the Ballan Rd (AKA 141 Vincent St), next to the BP service station, 200 metres south of the post office, close to the eastern end of Bleakley St, which goes to Daylesford Lake. See the satellite photo below under the Book Barn heading.
Tonna's stocks the sourdough bread made in Daylesford by Stellas Naturally Fine Foods, as well as
Irrewarra
sourdough bread from Colac.
https://www.facebook.com/Tonnas-Fruit-Vegetables-171519902934783/
The Blue Wren Patisserie
Narelle Beattie's
Blue Wren Patisserie
is a home-based business, but we are able to pick up her cakes from Himalaya (see below) in the Daylesford's main street, where she works most days.
For our 13th wedding anniversary she made us this beautiful carrot and pecan cake with a lactose-free cream-cheese icing with fruit and edible flowers: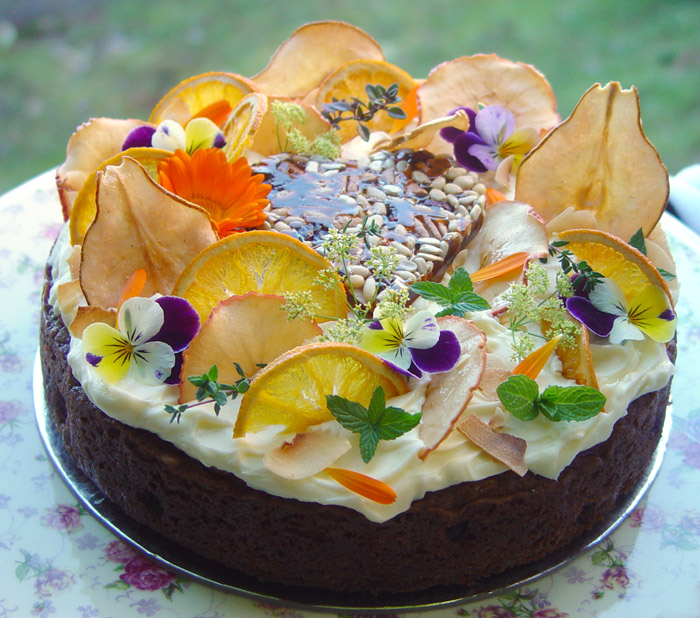 Our cake was every bit as delicious as it looks!
Phone 0438 139 126
email: thebluewrenpatisserie@gmail.com
https://www.facebook.com/thebluewrenpatisserie
Himalaya Bakery and Cafe
We particularly like their sourdough bread with olives, their vegetable samosas and their cakes, some of which are made by Narelle Beattie (see above). We recently bought one of their gluten-free Belgian chocolate cakes and it was a hit with the assembled multitudes who were visiting.
73 Vincent St (main street) Daylesford, 90 metres north-north-east of the post office.
http://www.himalayabakery.com
Sweet Decadence at Lacontro

This is a cafe best known for its home-made chocolates, the variety and delicacy of which are beyond any in our experience - and we used to frequent The Chocolatier in Ivanhoe.
87 Vincent St (main street) Daylesford. One shop to the left of the corner shop opposite the post office.
https://sweetdecadence.com.au/shops/vincent-street-daylesford
https://www.facebook.com/SweetDecadenceAtLocantro
They also have a shop in Ballarat (
link
) a web-based chocolate selection and delivery service (
link
). The website doesn't (June 2017) show all the chocolates which are available creations, such as this recently added licorice-flavoured delight: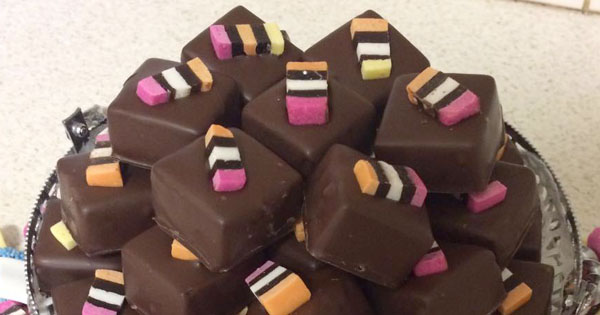 Paradise Bookshop

Two floors (14 rooms) with a vast array of well-organised, well-chosen, new and second-hand books, records, comics, educational toys, CDs, DVDs, greeting cards and fossils. Upstairs is nice and quiet.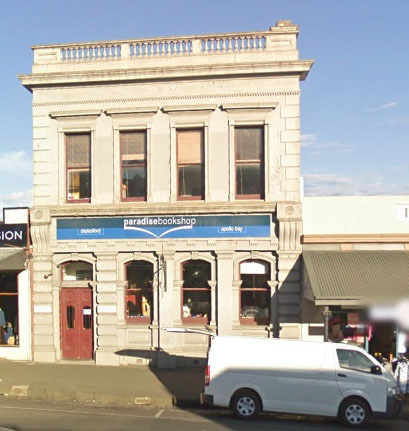 46 Vincent St (west side, 60 metres south of the roundabout at corner with the Midland Highway) 03 5348 1288.

http://www.paradisebooks.com.au

Courtot Automotive

Located at 4375 Midland Highway, at the west end of Daylesford, just south of the road to Tipperary Springs, is a family-run business Courtot Automotive.

This is an honest-to-goodness motor mechanic and independent petrol station. Last year when I asked for some engine oil, they didn't give me a brand-name plastic bottle off the shelf. There was a brief consultation on the make, model and year of the car, discussion of the most suitable grade of oil, and within a few minutes they supplied me with a 1960s quart glass oil bottle with pouring spout they had freshly filled from a 44 gallon drum out the back.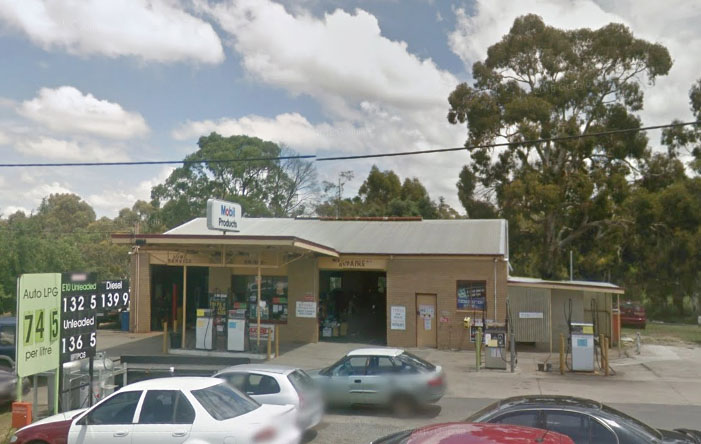 In early 2017 I drove in at 11AM, with no prior arrangement, with our 17 year old Japanese car which needed a new radiator. They got on the blower, ordered a replacement from Ballarat, had it picked up and delivered by Ray's Light Frieght (link) does two runs a day to Ballarat and back, removed the old radiator and fitted the new one (non-trivial with all the plumbing, fans, aircon radiator etc.) and had it ready for me to pick up at 4.30PM!

As far as I know they have no website. Phone 03 5348 2189.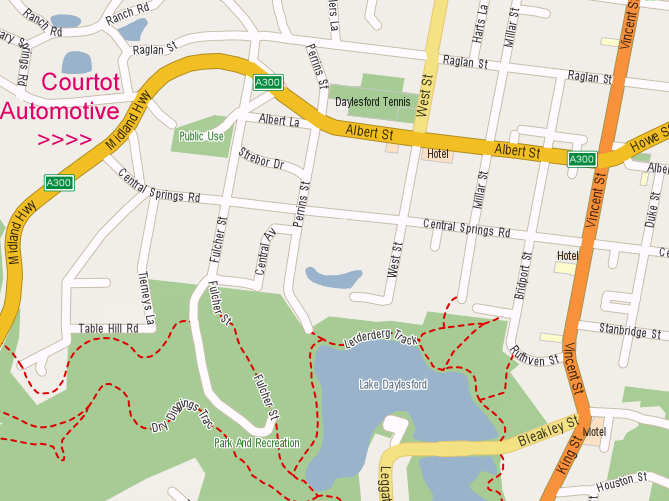 Map from http://www.street-directory.com.au

Wombat Hill House

This excellent cafe is located on the Wombat Hill volcano, at the western edge of the Daylesford Botanical Gardens, a few blocks east of Vincent St.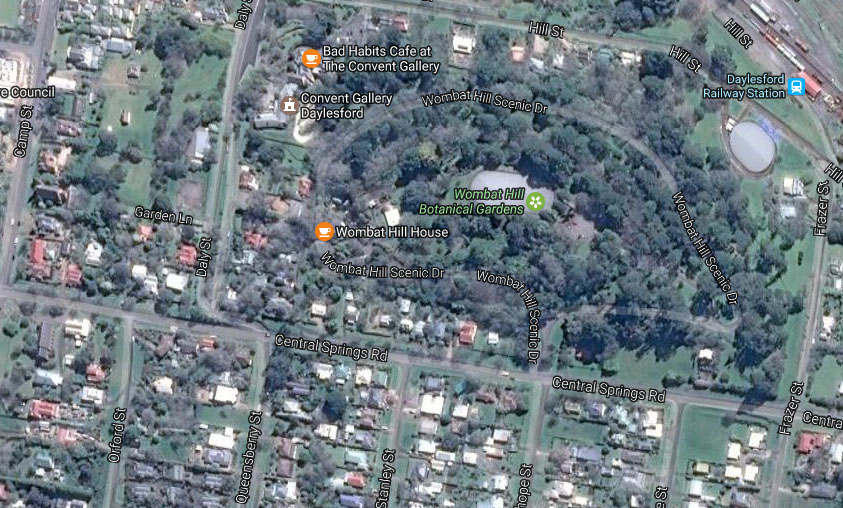 They hibernate on Tuesday and Wednesday. Phone 03 4373 0099.

http://www.wombathillhouse.com.au

Red Ginger Thai Restaurant

We always enjoy their food! They are located at 31 Albert St, across the road from the Coles supermarket car park. They have an online ordering system which works well:

https://www.redgingerthai.com.au

but when we order takeaway we like to choose from this site and phone our order directly: 03 5348 1163.

Spice of India Restaurant

Likewise, we have always enjoyed our meals at this restaurant, and the takeaway meals we have ordered from them.

They are located 2km south of the post office, at the front of the Daylesford Inn, 2891 Ballan-Daylesford Rd. Phone: 03 5348 2994. They have an online ordering site:

http://www.spiceofindiarestaurant.com.au

We have not yet tried the Taj Mahal Indian Restaurant http://www.tajmahaldaylesford.com
at 51 Raglan St, just north of the main part of town, but we have heard good reports and they have excellent reviews at tripadvisor.

Book Barn cafe and second-hand bookshop and the Boathouse cafe

Strategically located, with a deck and all, in the middle of Lake Daylesford, yet still on land, Andrew Green's Book Barn specialises in rare and unusual second-hand books. I particularly like their smoked salmon and brie baguettes.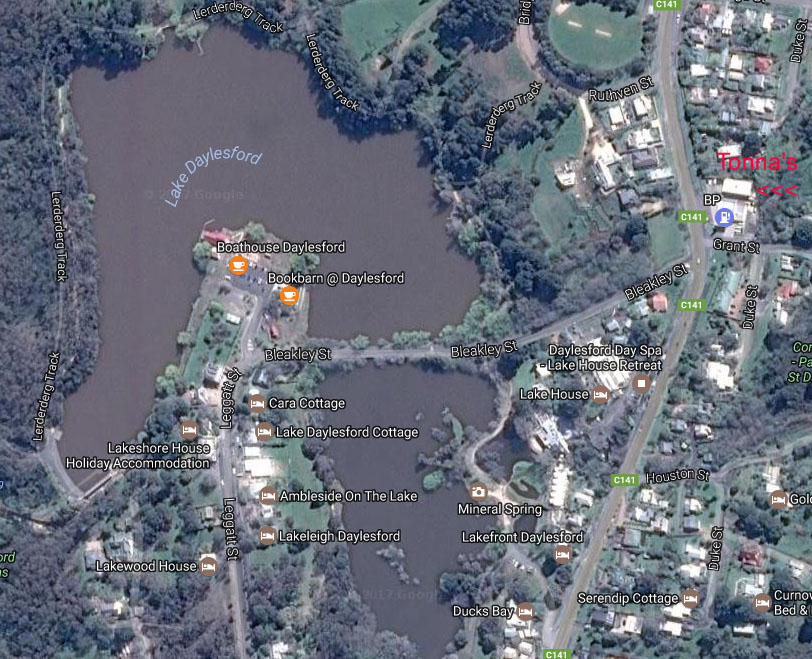 http://www.bookbarndaylesford.com

The Boathouse has fine food and views, but no books. Except during the winter months, paddle boats can be hired from just next to the Boathouse. http://www.boathousedaylesford.com.au

Oz Trans transport and removals

Oz Trans moved our house full of furniture, books and equipment from Melbourne to Daylesford in 2014. We were very happy with their care and abilities, especially with the steep paths which made it difficult to carry everything into our new home.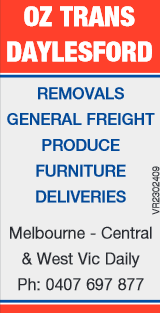 They do not seem to have a website (http://www.oztrans.com.au is inactive). They are 7km south of Daylesford: 2324 Ballan Daylesford Rd, Sailors Falls VIC 3461
and their phone number is
03 5348 6611.

This is one of several pages concerning Daylesford and places nearby. The index for those pages is here:
:
../
.
~~~ooo000ooo~~~